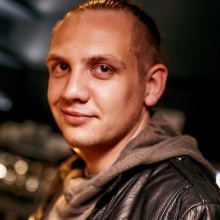 Biography
Oleksandr Avsharov served as a project director and release director at TVi in 2013, working on shows such as the
Morning Show
,
BW
,
Music for Adults
,
Third Call
. He was the director-in-chief and project concept developer at 112 Ukraine in 2013-2017. In 2017-2019, Oleksandr was the creative producer of the ZIK TV channel, working on new format development and PR campaigns. He supervised the launch of the Ukraine 24 channel in 2020. Since 2018, Oleksandr has been the production director of
Bad Raven
. He has been nominated for the Golden Dzyga award. He participated in the implementation of
The People Are Against
and
Experience
talk shows, the
Garage
music project
, Jokers, The Mir.
SELECTED FILMOGRAPHY:
Yours, Vasyl
(2020,&nbspdirector), War in My Head (2020, director), Odessans in Donbas (2017, director), Shadows of Ilovaisk (2016, director), Operation Debaltseve (2016, director), War and Minsk (2016, director), Crimea Island? (2016, director), Fortress of Cyborgs (2016, director), Words "Return" (2016, director), Day V (2016, director), War of the Worlds (2016, director), 14 (2016, director)