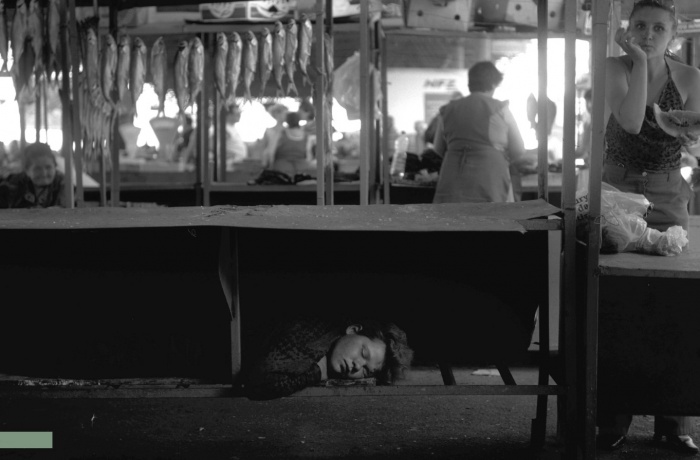 Docudays UA festival always invites the jury members to present their latest works or retrospectives. This year the audience will get a chance to see the Audius Stonys retrospective, the new film by Oleskandr Balahura Life Span of the Object in Frame, and a debut by the founder and chief editor of Russian film magazine Séance Lyubov Arkus Anton's Right Here.
A film by Lyubov Arkus won a Silver Mouse Award of internet critics at the 2012 Venice IFF. The hero of this film is an autistic boy. His life is divided between an apartment with peeling walls on the outskirts of a large city, and a mental hospital. Anton comes into the frame when he is on the point of becoming a patient at a residential neuropsychiatric institution, a place where people with the sort of diagnosis that he has do not live long. The author, the camera, the hero. The distance between them shrinks with every passing minute, and the author has to enter the shot and become a character in the story. However, it is not a story about how one person helped another, but about how one person recognized herself in another. About how there is Another who lives in each of us, and must be destroyed every day inside of us in order to survive. March 23, 2 pm, Cinema House, Blue Hall.
Eight years ago Oleksandr Chekmenyov made a photo of a young girl who fell asleep under the Privoz market stall in Odessa. From this point begins Oleksandr Balahura's Life Span of the Object in Frame. A photo by Chekmenyov have touched the filmmakers so deeply, they went to the market to find out more about the girls from the picture. They found her acquaintances and begun to put together this jigsaw puzzle that turned into remembering the whole era. This is 25 years of a country's life seen in a barbershop, a jail, at the bus stop, in a coal pit, at the hospital, in every household detail. Combination of documentary and staged scenes makes this film special; that is why Life Span of the Object in Frame is an experimental documentary. March 27, 2 pm, Cinema House, Blue Hall.
The boundaries between visible and invisible, audible and inaudible are blurred in the films by Audrius Stonys. Read about his retospective here.
Photo: Life Span of the Object in Frame