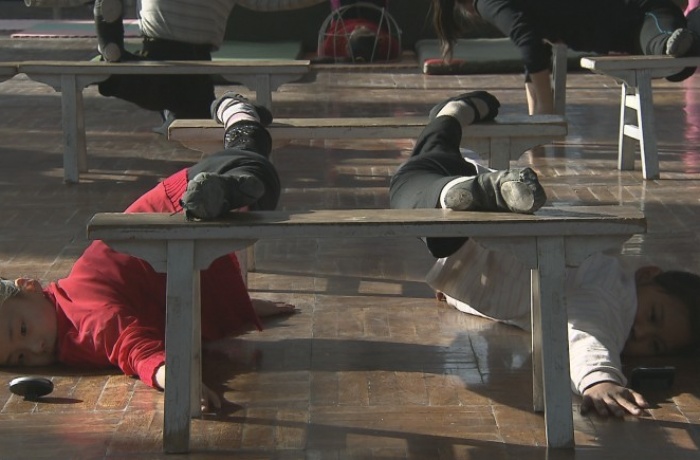 On Sunday, September 22, at 18:00, the PinchukArtCentre and international documentary film festival Docudays UA invite to watch two documentaries dedicated to the socio-political and cultural situation in today's China: "Blossom with Tears" and "Please Vote for Me". Screening of the films will take place in the video lounge, 6th floor of the PinchukArtCentre.
Blossom with Tears (2012) is a story is about competition and survival: a group of blossom-like children struggle to pave the way for their future lives. The film tells the story of two children (Yuan and Xiang) who are studying acrobatics, and their family. Their thin shoulders bear the hope of both families. While undergoing hardships physically and psychologically as they grow up, they learn to find happiness in life in their own ways. The documentary expresses the director's concern about the life of ordinary people in China.
Documentary director Weijun Chen in his film Please Vote for Me (2007) zooms in on a third-grade class in a primary school in the city of Wuhan, central China. These schoolchildren have their first encounter with democratic rules through a class experiment. Three eight-year old children compete for the position of class monitor, influenced by their doting parents, for whom they are their only child – as enforced by state policy. The three main characters take up the challenge in different ways through their campaign strategies, canvassing and election promises. Less self-conscious than their parents, they reflect existing social values more bluntly and honestly than adults.
The screening will take place in the framework of the DOCU/CHINA program that presents the best new documentaries dedicated to the socio-political and cultural situation in today's China. The project is implemented as part of the PinchukArtCentre's "China China" exhibition - a major group exhibition including eleven Chinese artists of different generations, focusing on the tension between individuality and collective thinking.