Two women, their voices echoing over the landscape and highways of Mexico from north to south, tell how official corruption and injustice allowed violence to take control of their lives, desires and dreams. An emotional and evocative journey, steeped not only in loss and pain, but also in love, dignity and resistance.
CREW:
Director: Tatiana Huezo
Producer: Nicolás Celis, Sebastián Celis
Cinematographer: Ernesto Pardo
Editor: Lucrecia Gutiérrez Maupomé, Tatiana Huezo
Sound: Lena Esquenazi
Production
Pimienta Films, Cactus Films, Terminal
Sales:
Awards
2016 – Tim Hetherington Award, Sheffield International Documentary Festival; 2016 – Best Documentary Cinematography, Best Documentary, Best Music at Fenix Film Awards; 2016 – Award in the Feature Documentary Films Competition at the Camerimage;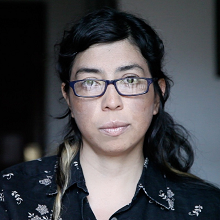 Director
Tatiana Huezo
Tatiana Huezo was born in 1972 in El Salvador, and moved to Mexico City at age five. A graduate of the prestigious Centro de Capacitación Cinematográfica (CCC), she has received a Gucci/Ambulante award, a grant established in 2007 to support new and established Mexican documentarians. Huezo has taught documentary film at the University Pompeu Fabra in Barcelona. The Tiniest Place is her first feature-length documentary.
Selected Filmography
Selected: The Tiniest Place (2011)