Moving through the corridors and bowels of an enormous and disorienting structure, the camera takes the viewer on a descent down to a dehumanized place of physical labor and intense hardship; a gigantic textile factory in Gujarat, India. In his mind-provoking yet intimate portrayal, director Rahul Jain observes the life of the workers, the suffering and the environment they can hardly escape from. With strong visual language, memorable images and carefully selected interviews with the workers themselves, Jain tells a story of inequality, oppression and the huge divide between rich, poor and the perspectives of both.
CREW:
Director: Rahul Jain
Producer: Thanassis Karathanos
Cinematographer: Rodrigo Trejo Villanuevo
Editor: Yael Bitton, Robert Fenz, Rahul Jain
Sound: Susmit 'Bob' Nath
Production
Jann Pictures, IV FILMS LTD., Pallas Film
Sales:
Awards
2017 - World Cinema Documentary Special Jury Award for Excellence in Cinematography, Sundance Film Festival; 2017 – Human Values Award of the Hellenic parliament, Fipresci Award and the International Jury Award at Thessaloniki DFF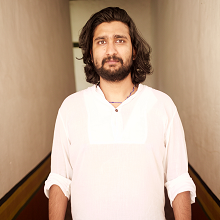 Director
Rahul Jain
Rahul Jain is from New Delhi and grew up grew up in the Himalayas. He recently graduated with a Bachelor's degree in Fine Arts in Film and Video from the California Institute of the Arts, and is presently pursuing a Writing M.A in Aesthetics and Politics. He is interested in distance, otherness and the everyday. Machines is Rahul's debut production.
Selected Filmography
Selected: Machines (2016)