Dariko, the only local television journalist in a small town in Georgia, strives from one report to the next to provide a pseudo-ethnographic portrait of a community and its traditions. Like Virgil with Dante, she leads director Salomé Jashi through the Georgian 'circles of hell' in a microscopic tragi-comedy that reveals a country in perpetual transition.
CREW:
Director: Salomé Jashi
Producer: Urte Amelie Fink, Gregor Streiber
Cinematographer: Salomé Jashi
Editor: Derek Howard
Sound: David Sikharulidze, Ivane Gvaradze, Giorgi Khancheli
Production
Sakdoc Film, inselfilm
Sales:
Syndicado, 121 Beaconsfield Ave, Toronto M6J 3J5, Canada. Tel.: +421-949 635 890, Aleksander Govedarica,
[email protected]
Awards
2016 – Main Award, Regard Neuf Competition at the Visions du Réel; 2016 – The Best Central and Eastern Europe documentary award at the Astra Film Festival; 2017 – Big Stamp for Best Film in International Competition at the ZagrebDox IDFF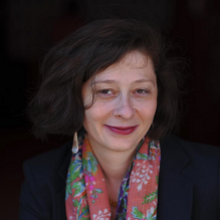 Director
Salomé Jashi
Salomé Jashi was born in Tbilisi, Georgia in 1981. She first studied journalism and worked as a reporter for several years. In 2005 she was awarded a British Council scholarship to study documentary filmmaking at Royal Holloway, University of London. Upon her return to Georgia, together with close friends Salomé founded the production company Sakdoc Film. Alongside filmmaking, Salomé was part of Caucadoc, a project that supported the development of the documentary scene in the South Caucasus. She additionally tutors at international workshops.
Selected Filmography
Selected: The Helicopter (2006), Speechless (2009), The Leader Is Always Right (2010), Bakhmaro (2011)