They stand at the forefront of the fight for freedom in the Middle East. These young women belong to the armed wing of the PKK, the Kurdistan Workers' Party, which is also an active guerrilla movement. In their camp hidden away in the mountains, the women lead a nomadic life, undergoing ideological and practical training before being sent out to the front lines. Their mission? To defend Kurdish territory in Iraq and Syria, and defeat ISIS (the armed militants of the so-called Islamic State group).
CREW:
Director: Zaynê Akyol
Producer: Sarah Mannering, Fanny Drew, Yanick Létourneau, Mehmet Aktaş, Nathalie Cloutier
Cinematographer: Etienne Roussy
Editor: Mathieu Bouchard-Malo
Sound: Olivier Calvert
Production
Périphéria in co-production with MîTosfilm and the National Film Board of Canada
Sales:
Peripheria productions inc., Montréal, QC H2T 1X3, Canada, +1 (514) 948-8005,
[email protected]
, Yanick Letourneau
Awards
2016 – Doc Alliance Selection Award; 2016 – Best New Talent from Quebec/Canada at the Rencontres internationales du documentaire de Montréal;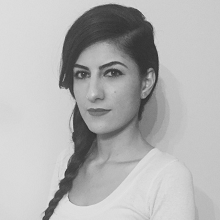 Director
Zaynê Akyol
Zaynê Akyol is an award-winning filmmaker of Kurdish origin who was born in Turkey and raised in Quebec. She studied at the Université du Québec à Montréal, where she obtained a bachelor's degree in communications, concentrating on film. In 2009, she produced her first short documentary, Isminaz, which won the Jury Prize in the Radio-Canada International Roots competition.Her research focuses on creative and relational issues in documentary film, which she frequently encounters in her own filmmaking efforts. Exile, immigration and expectation are at the heart of Akyol's first film essays, which alternate between Quebec and Turkey.
Selected Filmography
Selected: Gulîstan, Land of Roses (2016)