This year, the festival has launched its own industry section, the DOCU/PRO. One of the most important parts of the new platform was an open pitching for documentary films, the final stage of three long-term workshops – DocWorks: UA/UK, Warscape and The Young about Ukraine. The three very different programs had basically the same aim, which was to develop and support the Ukrainian nonfiction cinema. In particular, for almost a year the participants of DocWorks: UA/UK, supported by the British Council in Ukraine, Sheffield Doc/Fest and Docudays UA, had the opportunity to work on their projects.
"The challenge is always how to help shape the product, so that it works internationally and not just works for the domestic market," noted André Singer, a mentor at DocWorks: UA/UK. Six experienced Ukrainian and European directors, producers and distributors consulted the young filmmakers for the period of the program.
"Go for mistake, go for imperfection, go for your own way of expressing. Don't be afraid it will be too personal. The film is never too personal," insisted Audrius Stonys, a director and a mentor at DocWorks: UA/UK, during one of the workshops. Check out our video to see for yourself how it was happening:
The documentary filmmakers also visited two intensive workshops. One was a three-day workshop during the festival in Sheffield, where the participants attended classes, from a presentation by a classic of nonfiction cinema Audrius Stonys and to a workshop by André Singer, the producer of such prominent documentaries as The Act of Killing and The Look of Silence by Joshua Oppenheimer. And the second workshop took place during this year's Docudays UA and gave the participants an opportunity to prepare their final presentation for pitching together with Tue Steen Muller, one of the best coaches who teach filmmakers to promote their projects at pitchings at the global level.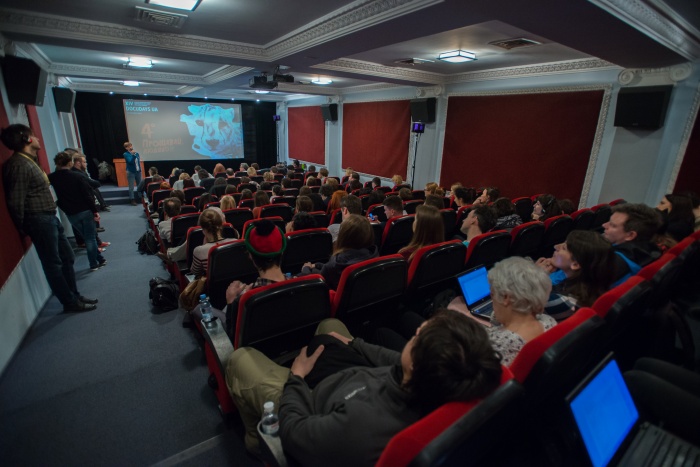 The pitching during Docudays UA-2017
As a result of the pitching, the DocWorks: UA/UK jury picked the UNDERWATER project by the director Oksana Kazmina and the producer Liosha Chashchyn as the winner. The authors received a prize of £3000.
In addition, Brigid O'Shia, one of the expert jury members of the DocWorks: UA/UK program, awarded a special prize from the industry platform of DOK Leipzig festival to the project Andriy Suleiman by the director Alina Horlova and the producer Maksym Nakonechnyi. They were given two accreditations for industry events of DOK Leipzig and free-of-charge consultations by Brigid O'Shia for the authors of the project.
Photo: workshop for participants during Docudays UA-2017