A box of tapes uncovered. A lifelong Utopian obsession. A daughter's attempt to complete her father's final film. Wintopia traces the enigmatic footsteps of renowned documentary filmmaker Peter Wintonick through the lens of his daughter, Mira, as she tries to decipher the map he has left behind. Reverberating with emotion and whimsy, the film guides us on a journey through possible worlds in pursuit of reconciliation, both between artist and family and between dreams and reality.
CREW:
Director: Mira Burt-Wintonick
Producer: Bob Moore, Annette Clarke
Cinematographer: Peter Wintonick
Editor: Anouk Deschênes
Sound: Marie-Pierre Grenier
Production
EyeSteelFilm, National Film Board of Canada
Sales: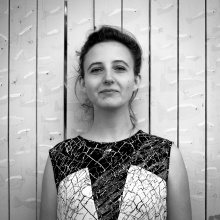 Director
Mira Burt-Wintonick
Mira Burt-Wintonick is an award-winning radio producer and filmmaker living in Montreal. She is the co-creator and senior editor of CBC's Love Me, a podcast about the messiness of human connection. She sometimes makes videos that make people laugh and cry (How To Age Gracefully) and absurd comedy podcasts (WireTap, Pen Pals).
Selected Filmography
Wintopia
(2019)