Between 22 and 26 June, Ukrainian documentary filmmakers, among others, presented their feature-length projects at the Marché du Film film market. Read below how the UKRAINIAN SHOWCASE @ Cannes Docs went and what prospects it opened for the Ukrainian participants. The presentation became possible thanks to the Ukrainian Institute's support.
This year, Marché du Film, just like many other film events across the world, was held online. As a part of the Cannes Docs section, on 22 June, Ukrainian directors and producers presented their film projects at the UKRAINIAN SHOWCASE @ Cannes Docs. Its was virtually attended by over 150 film professionals from all over the world, including the heads of influential European sales agencies (Deckert distribution, Cat'n'Docs, Rise&Shine) and the major documentary and feature film festivals (Berlinale, Visions du Réel, CPH:DOX, Doclisboa).
In addition to the presentation, the participating projects received individual consultations from leading international experts, namely from the tutors of EURODOC, a well-known training programme for producers. Participation in Cannes Docs also provided access to an intense online programme of workshops, lectures, international showcases and special screenings.
ABOUT THE ORGANIZATION OF THE UKRAINIAN SHOWCASE @ CANNES DOCS
Darya Bassel, Head of the DOCU/PRO Industry Platform
We met Pierre-Alexis Chevit, the curator of Cannes Docs, a few years ago at the DOKLeipzig market. Back then, he was, among other things, the curator of the FIPADOC festival market and of the documentary section at Marché du Film. I remember well how, when Marché du Film was mentioned, we were captivated by the idea to bring a Ukrainian delegation. Pierre-Alexis looked at us with distrust and recommended checking the prices in Cannes, meaning that it is very expensive. Next year, I found myself in Cannes for the first time; I had a chance to watch showcases at Cannes Docs, and I noticed that although Ukraine was always represented in Cannes, documentary projects in particular have never been presented separately. Then I reminded Pierre-Alexis once again about our wish to bring Ukrainian docs. Soon, we saw each other in Amsterdam once again during IDFA, where we brought a Ukrainian delegation together with the State Film Agency and the Ukrainian Institute. That is where we made the final arrangement to have a Ukrainian showcase. It was extremely important that the Ukrainian Institute immediately supported the project and did not change its intentions even after its budget was sequestered.
I hope that this year's showcase is the first but not the last, and that every year, we will be able to present at least 4 incredible documentary projects which will then be premiered at the best festivals of the world. I must note that there are still professionals at various market events who can confuse Ukraine with Romania or Greece. But the more events like this one we do, the more recognizable our cinema, our filmmakers, our country in general will be.
Olha Birzul, Head of the Cinema Division of the Ukrainian Institute
In the time of global challenges, even the biggest Cannes film market Marché du Film has to adapt to the new circumstances. That is why the Ukrainian Institute created the conditions for Ukrainian documentary filmmakers and producers to be present online at the No. 1 film market. Today, this virtual representation became an alternative to the traditional Ukrainian pavilion in Cannes, and we believe that this international networking will lay the foundation for long-term international partnerships.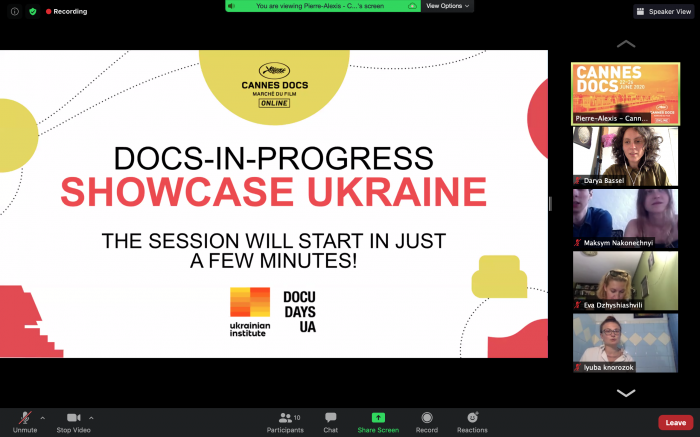 PRESENTATION PARTICIPANTS ABOUT THEIR CANNES DOCS EXPERIENCE
Eva Jishiashvili, director of Plai. Path Through the Mountains
Participation in Cannes Docs means new opportunities, more responsibility and more demands for yourself. It was an opportunity for us to talk to experts, we received truly positive feedback about our project, and returned to working on the film with new impressions. Several festivals invited us to participate. Although the Cannes industry platform was held online, it was impressive in scale. And even though we missed live communication, the film market's participants studied each other's profiles, had opportunities to contact each other, hold meetings online and establish professional contacts.
I want to add that Docudays UA and the Ukrainian Institute confidently present the Ukrainian documentary filmmaking in the international arena. Documentary film is not commercial and is held together by the team's enthusiasm. And since documentary projects often start off without funding, government institutions' support is incredibly important.
Marta Smerechynska, director of Diary of a Bride of Christ
I am tirelessly switching between workshops and online film streams, between collective hangouts and personal meetings with experts. Meanwhile, the Cannes "Tinder" is offering the best matches for our project.
Since this year, our producer Natalia Libet and I were lucky to be a part of the UKRAINIAN SHOWCASE @ Cannes Docs and present our future film, a huge number of experts found out about the story we want to give to the audience. This market week was an incredible contribution to our process of working on the film, and to my self-awareness within the industry.
Alina Horlova, director of Between Two Wars
It turned out that recording a video is not easier than to come out and speak before the public. Live audience always gives you energy. It was hard for the Cannes Film Market organizers: we could see that it was hard to hold such a large-scale event online. The consultation by the Scottish producer Flore Cosquer (EURODOC, SDI Productions) was very useful. She suggested to us some non-obvious steps on how to contact the necessary people. For instance, she told us that representatives of the funds which have already supported the project can help with festival distribution. And since the film is now in its final stage, we put the main emphasis on meeting with distributors and festival representatives.
Lyuba Knorozok, producer of Florian's Witnesses
Even online, the Cannes Film Market managed to create an extremely intricate and complex (read: exclusive and non-accessible to the layman) navigation system. A separate new website, three apps, two video messengers and innumerable other nuances. As a reward, those who solve this riddle got access to the whole world of industry professionals without leaving their room. It was nice that under the online format we did not have to spend our already symbolic budgets on travel expenses. It will not replace a live festival, but the industry communication turns out to be much more concentrated.
Main photo: a still from Florian's Witnesses