Every year, Docudays UA chooses a new theme for the festival and looks for its best visual expression. This time, we have invited Zhanna Kadyrova to be our co-creator. She is an artist known for her work with concrete, tile and granite. Zhanna's works rethink contemporary political and social context, and her latest performative work, Market, questions the value of art. We discussed her formation as an artist, the creation of the award, and the de-Communisation of champagne.
The theme of this year's Docudays UA is the process of growing up. How did you grow up as an artist?
I might say that I didn't choose the path. I was just sent to an art school after my older sister. The turning point was the Orange Revolution, when the REP group was formed. Previously, I had already participated in several group exhibitions and met with artists from the older generation – the 'Paris Commune'. They were my role models.
I was friends with Kseniya Hnylytska and repeatedly visited the workshop of her father, Oleksandr Hnylytsky. Natalia Filonenko, Kseniya's mother, curated many contemporary art exhibitions in Kyiv. I used to help the artists to mount their exhibitions, so somehow I was always around this world of contemporary art.
Natalia constantly told me and Kseniya: "I am working on this exhibition theme. Maybe you will come up with something?" Sometimes, Kseniya and I generated some rather childish ideas. Immature, so to speak. Still, it was an opportunity to talk and think. Gradually, something started to form.
During the Orange Revolution, the REP Group emerged. We had our first exhibition at the Centre for Contemporary Art at the Kyiv-Mohyla Academy. Subsequently, this venue hosted my exhibition in cooperation with Andriy Sahaydakovsky, which was titled Diamonds and curated by Yuriy Onuh and which was well-received.
Did you put your experience of growing up into the creation of the Docudays UA award?
This award is very much related to my daily life. My workshop in Kyiv is a shared space in a semi basement, which hosts the workshops of six different artists (and not only artists). One of these is a silk-screen workshop for graffiti artists.
When we were thinking about the storyline of the video featuring the pedestal, we came up with the idea that it should be vandalised after filming. Therefore, it was natural to turn to 'our' graffiti artists, with whom we communicate closely. For me, it's a state of freedom and romance, which is absolutely relevant to the festival's theme.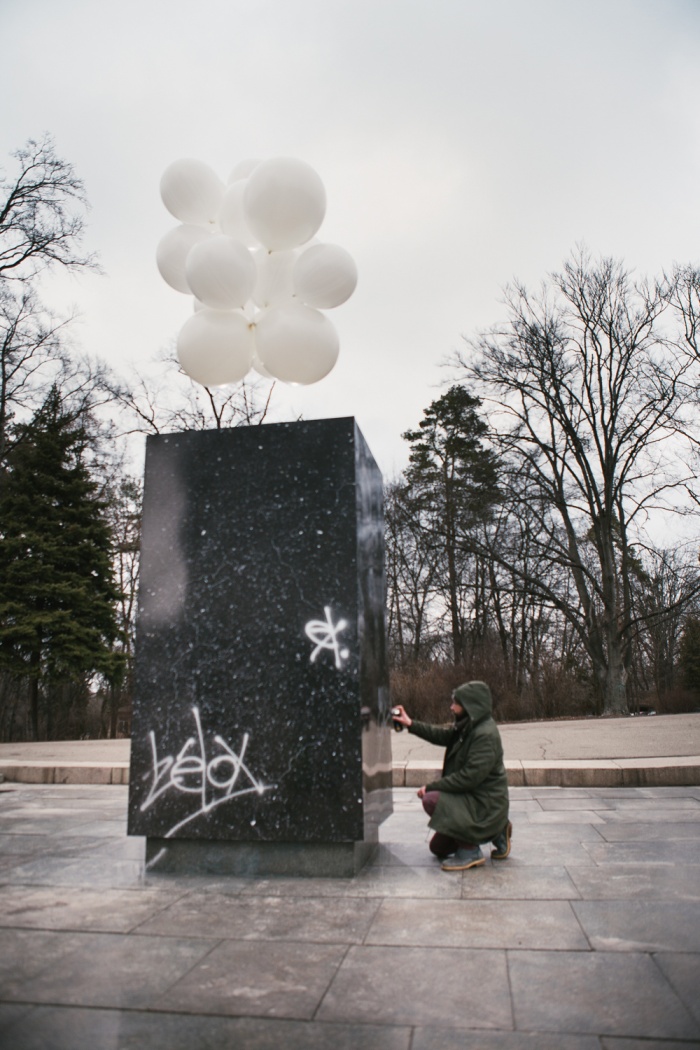 The award weighs 2.5 kilos. Were you planning for it to be so heavy from the beginning?
No, we simply chose the right size. We had to find the arithmetic mean of shape and weight. As a matter of principle, we used some granite from Korostyshiv and preserved the real proportions of the pedestal near Beresteyska station, where the video was filmed. It was important, since it's a documentary festival. It was also crucial to involve real graffiti artists. Five of them tagged the awards the same way they tag city walls.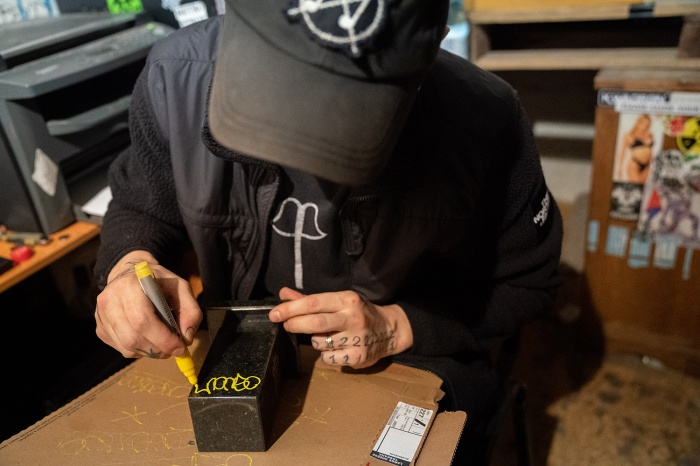 Photo: Volodymyr Shuvayev
How important is weight in art?
Currently, I am presenting the Market project in New York. It's a project about artworks being sold by weight and it only takes part in art fairs, , places where art sells. This time, I'm selling sweets and cakes made from found pieces of buildings, concrete, and ceramic tiles. There are also objects cut in the shape of champagne bottles from Korostyshiv concrete. They are labeled with real labels of Ukrainian sparkling wines. Due to the ongoing de-Communisation process, one cannot write the word 'Soviet' on them anymore. Factories deal with this issue in different ways. For example, the Kyiv Plant of Sparkling Wines uses the label 'Sovietovskoye', Odesa produces 'Sovietoskoye', and others sell 'Svetskoye', but all of them keep the Soviet design. In a way, I am exporting Ukrainian de-Communisation.When I tell this story to visitors to the stand, they wonder how a word can be an enemy.
Interview by Alex Malyshenko
__
Main photo: Natalka Diachenko