This year, we are introducing a new programme entitled NO IMAGE AVAILABLE. It is dedicated to the development of the documentary essay, as well as new and classic examples of the form. The viewers are invited to go on a remarkable journey from the experiments of Jean-Luc Godard to the monumental studies of Thomas Heise.
Sans Soleil, directed by Chris Marker, 1983
This film is considered the pinnacle of the essay film genre. In the beginning, a voiceover tells thе viewers: "I've travelled around the world several times; banality is all that interests me now". Sans Soleil is a deliberate journey from Africa to Japan. The voiceover explains that these two geographical poles are brought together by the archaic belief in the spirituality of everything in this world.
Chris Marker was a French filmmaker, photographer, author, and reformer of documentary cinema. The film essay model which he developed was popular among subsequent generations of filmmakers, especially the Americans Errol Morris and Michael Moore.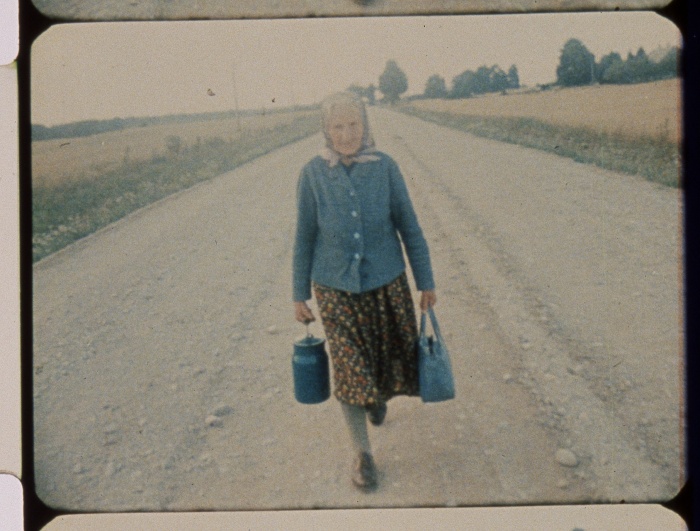 A still from Reminiscences of a Journey to Lithuania
Reminiscences of a Journey to Lithuania, Jonas Mekas, 1972
Reminiscences of a Journey to Lithuania are Mekas' road sketches from his trip to the village of Semeniskiai, where he was born and where he decided to travel after 27 years of absence. This is the filmmaker's second diary work, which includes many personal frames edited in the author's characteristic manner of fast editing à la Vertov.
Jonas Mekas passed away more than a year ago. He was one of the leaders of the new American cinema, 'the godfather of the New York cinema avant-garde', as well as a laureate of the Lithuanian National Prize in Literature and Arts. Mekas created dozens of experimental films and founded the genre of diary films. He collaborated with a number of artists including Salvador Dalí, Andy Warhol, Joseph Beuys, John Lennon, Yoko Ono and others.
Makeshift (For Mekas), Jem Cohen, 2019
Jem Cohen is familiar to all cinema lovers interested in film essays. Cohen is originally from New York, but has Ukrainian roots. He started his career by selling ice cream from a van; subsequently, he became famous for his urban landscapes, mixtures of various media formats, and collaborations with musicians (he made videos for Patti Smith, Cat Power and REM). His documentaries are meditative, with a vague political anti-globalist stance, and long shots that are often defined as 'poetic'. Cohen himself tends to characterise his works as 'lyrical'.
His latest film is a 7-minute short dedicated to Jonas Mekas. Here, the avant-garde master looks lively, covered with freckles and wearing a cap. He is smiling and drinking beer. Next – a random set of frames: subway, flowers, rain, night. Cohen edited the footage from a special summer day when he met Mekas in New York, and subsequently added some frames from the 2018 art camp in Vilnius.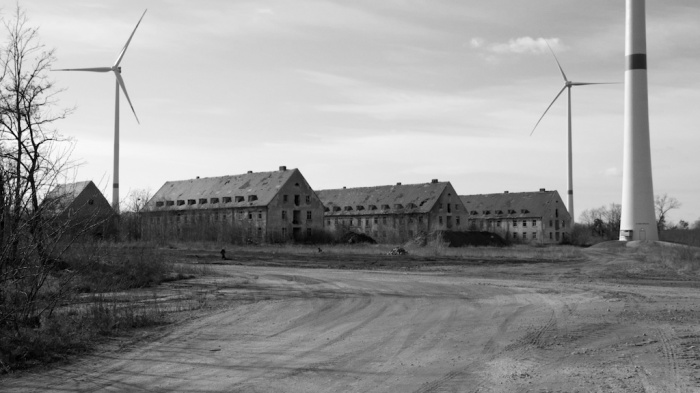 A still from Heimat Is a Space in Time
Heimat Is a Space in Time, Thomas Heise, 2019
63-year-old German director and playwright Thomas Heise has created an epic, almost four-hour-long film essay in which he reflects on Germany and his own severe and cruel family history. Using letters and diaries from his parents and grandparents (Heise's father was a philosopher and academic, and his grandfather a literary critic and teacher), he recounts the painful experience of Jewish descent and anti-Semitism in the Nazi era, as well as the Communists' abuse in Eastern Germany. Heise reads various documents in an expressionless monotonous voice, while his camera captures static monochrome fields, forests, dilapidated buildings, and railway tracks.
I Often Think of Hawaii, Elfi Mikesch, 1978
In her second film, Austro-German filmmaker Elfi Mikesch tells about the world of a teenage girl from East Berlin who dreams of the Caribbean and Hawaii, a life of luxury and a great love. 16-year-old Carmen lives on the city outskirts with her mother Ruth and brother Tito. Her father was a Puerto Rican soldier who has left the family, and all that remains of him are several exotic postcards and a collection of Caribbean and Hawaiian music records. These memories make Carmen dream of a better fortune, which is different from working-class life in 1976 in Germany.
Maman Maman Maman, Lucia Margarita Bauer, 2019
A beautiful short film by Lucia Margarita Bauer dedicated to her grandmother. Once a year, Lucia's entire family gathers in the ancient French estate where they have lived for 15 generations. Flowers, hats, unmade beds, grannies, aunts, girls who are trying on glasses, and young men with photo albums. In the course of the film, the grandmother dies, is put in a coffin, dressed, and taken on a long trip to the cemetery in a black limousine. It's all filmed on 8mm film and a digital camera. The film, which was entered in the programmes of the Viennale and Rotterdam festivals, resembles a documentary by Wes Anderson.
Sloth, Chantal Akerman, 1986
In 2015, the famous Belgian director Chantal Akerman committed suicide, but she will forever remain a part of the history of world cinema due to her works. Residents of the post-Soviet countries consider iconic her film D'Est about traveling from Germany to Moscow via Poland and Ukraine (the film even features some music by the Ukrainian band Braty Gadyukiny).
Sloth is part of the omnibus Seven Women, Seven Sins, a funny portrait of a filmmaker trying to overcome her own laziness (that is, getting out of bed before lunch) to shoot a film while her partner Sonia Wieder-Atherton works hard. This is where Akerman's famous quote "You need to get out of bed to make a film" comes from.
Je vous salue, Sarajevo, Jean-Luc Godard, 1993
This short film essay is focused on a photo by Ron Havin captured in Sarajevo during the Serbian army's siege of the city. The photo drew the attention of Jean-Luc Godard, who divided it into 19 parts and details each of these fragments. In two minutes, the filmmaker tells us about all the horrors of war, making one spend much more time comprehending the film than watching it.
A still from Salut les Cubains
Salut les Cubains, Agnès Varda, 1963
The 'granny of the French new wave' Agnès Varda passed away last year, leaving a vast legacy of fiction and documentary films. Among her numerous film essays there is Salut les Cubains. Four years after Fidel Castro came to power, Agnès visited Cuba and returned with 1800 photos. This material resulted in an educational and entertaining documentary. On the screen, we see silhouettes of women in tight dresses, men harvesting the cane crop, the Socialist lifestyle, and the cha-cha-cha.
Universal Citizen, Peter Thompson, 1987
Peter Thompson is usually described as 'the best Chicago filmmaker you've never heard of'. Universal Citizen is the second part of a diptych with common characters and locations (the first part was Universal Hotel). This film is a prolonged journey leading us to the Universal Hotel in Guatemala and the public square in Sienna, which is shown in the beginning of the second film. The film is focused on Thompson's off-screen meetings with a Libyan Jew, a former prisoner in Dachau who is now a smuggler in Guatemala, but refuses to appear on screen.
Text: Natalya Serebryakova
Main photo: a still from Sloth