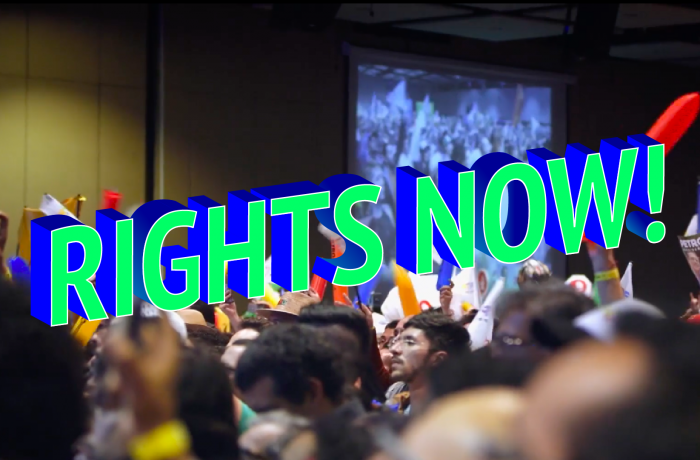 On 24 November at 19:00 join the discussion RIGHTS NOW! The country will not change itself: stories of civil activists, which will take place in connection with the screening of the film A Colombian Family as part of the Travelling Docudays UA programme at the DOCUSPACE online cinema.
During the Colombian Civil War, human rights activist Ruby defended the rights of the poorest Colombians. But when the situation in her country stabilized, the protagonists of the documentary A Colombian Family faced a choice: to continue to fight or return to a quiet life. This is a question public activists from around the world are confronted with. Participants of the discussion RIGHTS NOW! The country will not change itself: stories of civil activists will share their experiences and tell how activism has become a matter of their lives.
Ivan Torskyi from Drohobych could run his business in peace: instead, he launched anti-corruption activities, founded a public organization, and told his fellow residents the truth about how money from the city budget is spent. The resident of Kherson Olena Stariuk is a lawyer at the Sheriffs for New Communities project. Together with her colleagues, the activist conducts training sessions for residents of the Kherson region to help them solve security-related issues. Maria Tsypiashchuk, a lawyer and a member of the Board of the Association of Legal Clinics of Ukraine, despite her busy schedule, continues to coordinate the activities of the public reception of the Ukrainian Helsinki Human Rights Union in Rivne on a volunteer basis. In addition, human rights activist provides free legal consultation for the public. Ludmila Yankina, human rights activist, Head of the strategic direction for the protection of human rights defenders and activists of the ZMINA Human Rights Center will be a moderator of the discussion.
You can watch the discussion
at the link
.