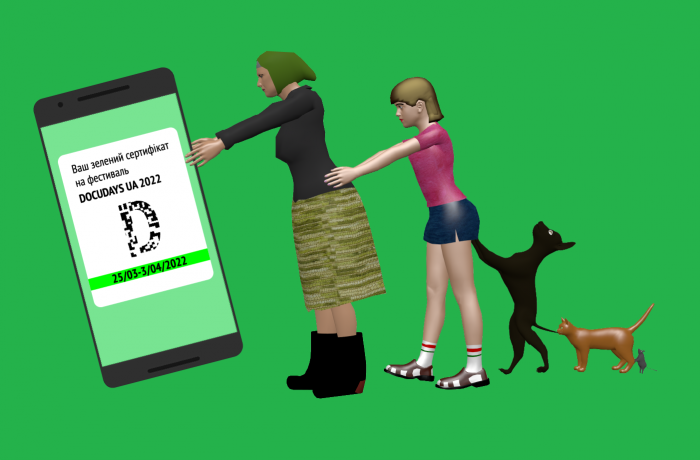 The sale of passes to Docudays UA-2022 starts today. The 19th Docudays UA will be held from 25 March to 3 April in a hybrid format and will return to the big screens for the first time in two years! Documentary hits, meetings with directors, documentary workshops, passionate and inspiring discussions of current human rights issues. We will once again plunge into the whirlpool of festival life and strive to share this new sense of community with you.
The festival pass provides access to the entire offline programme of the festival at a better price. The cost of the Early Bird pass is 750 hryvnias. Passes prices will increase from February. You can also buy passes with the help of the eAid programme. There is a special offer.
>> BUY A PASS

Early Bird until 1 February:
1 pass — UAH 750.
2 pass — UAH 1,000.
Student pass — UAH 300.
From 1 February:
1 pass — UAH 1,000.
2 passes — UAH 1,500.
Student pass — UAH 500.
From 1 March:
1 pass — UAH 1,500.
Student pass — UAH 700.
Mastercard's cardholders have a 10% discount when paying with the card
Those who saved their 2021 passes for the next year will receive a letter in early March with the information on how to activate them in 2022.
You will be able to get your pass about 2 weeks before the festival starts. We will inform you about how to do it in the most convenient way with a separate letter in early March.
Traditionally, Docudays UA will offer press and film industry accreditation. We will announce submission for special accreditations at the beginning of next year. It will be possible to purchase industry accreditation from 18 January. The cost of accreditation is UAH 750 until 21 February, passes prices will increase from February. Industry accreditation provides access to closed events of DOCU/PRO sections: meetings with film industry professionals, workshops, and lectures.
Should you have any questions about purchasing the passes, contact us at [email protected]
See you in the New Year!