Marko Grba Singh was born in 1988 in Belgrade, Serbia. He is currently studying filmmaking at the Faculty of Dramatic Arts in Belgrade. Author of the short documentaries At Least We've Met and Pale. Film Abdul and Hamza by Marko participated in the competition programme of the Marseille International Documentary Film Festival in 2015 and won the Special Mention.


In 2016, as part of the Looking China Youth Film Project, Marko created a short documentary Stars of Gaomeigu in Yunnan, China. The film won the Most Innovative Short Film award at the 2017 Visions du Réel Film Festival. His short film If I Had It My Way, I Would Never Leave was screened in the ACID section of the 2017 Cannes Film Festival. Marko Grba Singh was a member of the student jury at the 2016 San Sebastian Film Festival. He currently works as the art director of the BELDOCS Film Festival. At the 20th anniversary Docudays UA film festival, Marko Singh was one of the jury members of the National Competition.


How did you come from the film industry to work at the BELDOCS festival?
I have been making films for over ten years. Eight years ago, I made a film titled Abdul and Hamza, which premiered at the Marseille Film Festival and won the Special Jury Mention. A year later, Abdul and Hamza was selected for the BELDOCS program. This is when I've got to know the team. There was an open call for a Serbian programmer for the national competition, so I applied and was selected. I started working on the national program, and subsequently got promoted to art director.


What was the film Abdul and Hamza about?
It was my first medium-length film; previously, I'd only made short films. It's about two refugees from Somali who are hiding in an abandoned house near the Serbian-Romanian border, and it was actually filmed in October 2014, before the wave of Syrian refugees in 2015. The film shows a few days in the life of refugees. They are just waiting for the perfect night to cross the border into the European Union. The film is divided into two sections. The first one is about Somalians. The second part is about the film crew, which is me, my colleagues, the cameramen, and the sound engineers. After the film crew crosses the border, they ask themselves whether cinema really matters in these conditions. I am convinced that they cherish their lives much more than cinema, and so it should be. In fact, these two parts overlap due to the parallel editing in the film.


What about your film Rampart, which was screened in Locarno? It's dedicated to your apartment, and it is based on your home footage.
This project started with the idea of making a film about the apartment where I grew up. I lived there from 1994 to 2015, and my parents wanted to sell it in 2019. The apartment was completely empty and ready for sale. I would just go there and wander around the rooms, thinking about the past. It brought back some memories. This is when I realized that I wanted to make a movie in which each room in the apartment would evoke one memory from the past. As we started collecting VHS tapes and other materials from the past, I realized that this film is not about the apartment as such; in fact, it's about my childhood, the places of my past, and the events that shaped my early years.


Most of the footage from the VHS tapes is from 1998-1999, when the bombing of Yugoslavia started. So, in essence, it's about the end of childhood and saying goodbye to your familiar places that exist no more. This apartment has already been sold, it belongs to another family and has a different story.


Those were your grandfather's VHS tapes, weren't they?
Yes, my grandfather was a movie enthusiast, but he was not a director, just an amateur. He would buy cameras and film family meetings, gatherings, holidays, and so on. Sometimes he would give one of the cameras to us, and my parents and I would make sketches or fool around, and then return the camera to my grandfather. Most of the footage is his own, and he was really quite good at it-it's very interesting to see how he worked with the camera.


Was your second grandfather Indian?
My second grandfather was from Punjab, but he was born in Malaysia, in a small village near Epoch City. His father, my great-grandfather, emigrated from Punjab to the Malay Peninsula when he was very young, maybe 13 years old. That was more than 100 years ago. He started working as a postmaster in Malaysia, on the Malay Peninsula. He was transferred from one position to another many times. He had ten children, all of whom were born in different villages. Thus, my grandfather was born in Malaysia, and when he grew up, he worked at a textile factory in Singapore. In the mid-50s, he left Singapore for London to study. He wanted to be a lawyer. As for my grandmother, she came from Belgrade to London, and they met in a student dormitory there. That's the story.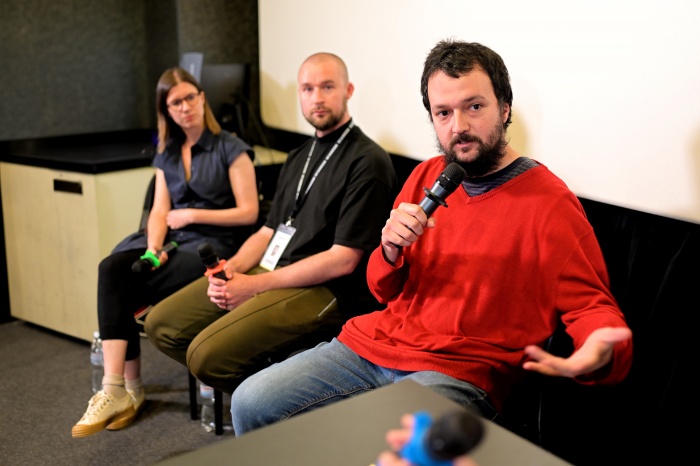 DOCU/CLASS discussion on the 20 Docudays UA, Stas Kartashov


Are you creating your first feature film about their love story?
That's right. My first feature film is going to be a reconstruction of my grandfather's life. I analyzed his life and wrote a script. However, the events take place in the present time. All the things he faced and all the challenges he went through are in some way actualized and placed in a modern context. Nevertheless, there is also a documentary part, in which some family members talk about him and the family in general. You can feel the narrative of the fictional part change depending on their stories. We received financing for the project development and are now applying for production. I will shoot the film it in the UK, in England, in Serbia, and in Malaysia, because I have family in all these countries. My grandfather's brothers, children, my uncles, cousins, and my grandmother are still alive. My grandmother lives in Belgrade.


What do you remember about the war?
I was born in 1988. When the war started in 1991, I was only two and a half years old. I can't remember exactly how the war in Slovenia, Croatia, and Bosnia started. So my first memory was of Kosovo.
My parents were strongly opposed to Milosevic and his propaganda, and they took me to student protests in 1996 and 1997 when I was very young. These were protests against Slobodan Milosevic and his party who'd rigged the elections. The hopes were very high. I remember the tensions in Kosovo and the sense of hopelessness. I think my parents also felt that they could neither intervene in the war nor try to stop it.


I remember very well when the bombing started in 1999. I didn't know anything about the situation in the country, I just remember the air raid siren on March 24, and how the first bomb fell in some military area near Belgrade. I asked, "What is it?" and my dad said that it was just two trolleybuses colliding in our neighborhood. He told me not to worry. But even as a kid I realized that this was impossible. I didn't believe him because the explosion was too powerful. Then we went down to the basement of the house and remained there for a while. Subsequently, my mother and I went to Timisoara and stayed there until the bombing ended. After a while, we returned.


Was your father mobilized?
He did not want to go to war. No one wanted to go, neither his uncles nor him, because they firmly believed that this war was criminal. They were opposed to Milosevic's policy, so they simply hid from mobilization at their friends'.


Today, not everyone in Serbia supports Ukraine in the Russian-Ukrainian war. Why?
Of course, it is true. And I am very sad when I hear some people saying gruesome and foolish stuff. I still think that most people have a sense of empathy. The Russia and Putin supporters are very loud and aggressive, and many people are simply afraid to say what they think in their presence. But I firmly believe – I mean, I still believe – in humanity. 99% of my friends and people I meet are empathetic and condemn what Russia is doing now. I think their commitment to Russia's policy is due to propaganda in the media, as well as people's own experiences and beliefs: after the 1999 bombing, they have strong anti-NATO sentiments. Therefore, it's not about being with Russia, it's not about being with Putin, it's about being against NATO. I think they are making a mistake, because Ukraine is crucial now.


Why did you personally agree to attend the film festival in Kyiv?
I want to support the festival and the people. Some of my colleagues from the festival are also my friends, and I can't let them down. I believe that I have to do at least something to demonstrate my position, to show at least a small gesture of support, because I am very depressed and scared by everything that is happening. I want the war to end as soon as possible. I was very, very happy to receive the invitation, and I am grateful for it.


You have just returned from the Cannes Film Festival. What are your impressions?
I liked several films, but the one by Argentine director Lisandro Alonso was beyond comparisonn. I'm a big fan of his films in general. He has a very special, unhurried approach to storytelling. It was really interesting. I also loved The Fallen Leaves by Aki Kaurismäki. His films and style are unique. He is always full of love and compassion. I adore his films, and this was one of his best. What else? There was an interesting Congolese film from Un Certain Regard titled Omen. There is always a problem of morality in cinema. How do you show real people, how do you represent your own country? How to realize that you are on the verge of exploiting a topic? I think this film showed Congolese society very well – without any speculation, with love and passion for cinema. I would say these three films were very interesting.


Your projects are all very different. The first one is a film about migrants. Then, there is an experimental film about family roots, and now you are working on a film about the love story of your grandparents... What unites them? Do you have your own method?
I think I have my own method of storytelling and visual style. I always love all my characters. And that's maybe what unites all these films, because in Abdul and Hamza, we really become a family. During the filming, we all became friends and family, and then in Rampart, it's my own family, you know? So yeah, maybe I would say that, in the process of filmmaking, you become a family with the crew and with protagonists. This is very important.


What is your opinion on nationalism? In fact, we are fighting for our language and our culture, which is why some Europeans consider us aggressive.
My grandfather is from Asia, and my second grandfather comes from a small area in what is now Bosnia and Herzegovina, which used to be part of Yugoslavia. We are all mixed. Nationality is something you get since birth. You don't achieve it through work or anything else, you know? I was born here, but I could have been born anywhere else. It's very important for me to unite with people – this is why one of my favorite festivals in the world is DoсuFest in Kosovo. I am proud to be friends with these people, and I'm happy that there is no tension between us. That's why I don't understand nationalism in such a narrow sense.


I have a lot of friends from Kosovo and Albania, although there are no relations between Serbia and Kosovo on the governmental level. But on a human level, they do exist, because there are people with good hearts everywhere. But of course, Ukraine has to defend itself, it is a response to Russian aggression. Russia invaded Ukraine, and Ukraine has to defend its borders. That's the whole story.


What would you like to wish our audience at Docudays UA?
I think that culture is very important, especially in these difficult times. I hope that the audience will enjoy the films, and the viewers will be captivated by discussions. I also hope that Ukraine will become free as soon as possible. I really, really hope that the war will end as soon as possible.

Main photo: DOCU/CLASS discussion on the 20 Docudays UA, Stas Kartashov

Text: Nataliya Serebryakova

_____________
The 20th anniversary of Docudays UA is held with support from the Embassy of Sweden in Ukraine, the Embassy of Switzerland in Ukraine, the Ukrainian Cultural Foundation, US Embassy in Ukraine, the Embassy of Ireland in Ukraine, the Embassy of Denmark in Ukraine, the Embassy of Brazil in Ukraine, the Polish Institute in Kyiv and the Czech centre Kyiv. The opinions, conclusions or recommendations do not necessarily reflect the views of the governments or organisations of these countries. Responsibility for the content of the publication lies exclusively on the authors and editors of the publication.