The story of a lonely, 53-year-old psychiatrist living with his severely overprotective mother. When a woman steps into the picture, a bad conflict breaks out. After years of sexual abstinence, Ewa brings out the man in him. His mother yells, 'Wake up, you're fifty- three!". He answers in St. Paul's words, 'Children obey your parents, honour thy father and thy mother and ye fathers, provoke not your children to wrath'.
Sales:
Katarzyna Wilk, Krakow Film Foundation, ul. Morawskiego 5 p. 434, 30-102 Krakow, Poland, +48 12 294 69 45,
[email protected]
, www.kff.com.pl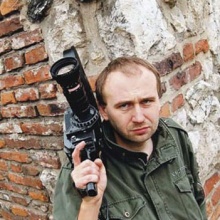 Director
Marcin Koszalka
Marcin Koszalka was born in 1970 in Cracow. He is a graduate of the Krzysztof Kieslowski Faculty of Radio and Television at the University of Silesia. He works as a cameraman of fiction films and a cameraman and director of documentaries. He has been a laureate of numerous festival awards (Nyon, Berlin, Gdynia, Cracow, Wroclaw). Directed, in particular, such documentary films as Such a Nice Boy I Gave Birth to (1999), The Birthday Celebration (2003), It'll Be OK (2004), All Day Together (2006), User Friendly Death (2006), The Existence (2007), Dead Body (2008), Till it Hurts (2008), Sentenced for Life (2008), The Declaration of Immortality (2010), Let's Run Away From Her (2010).