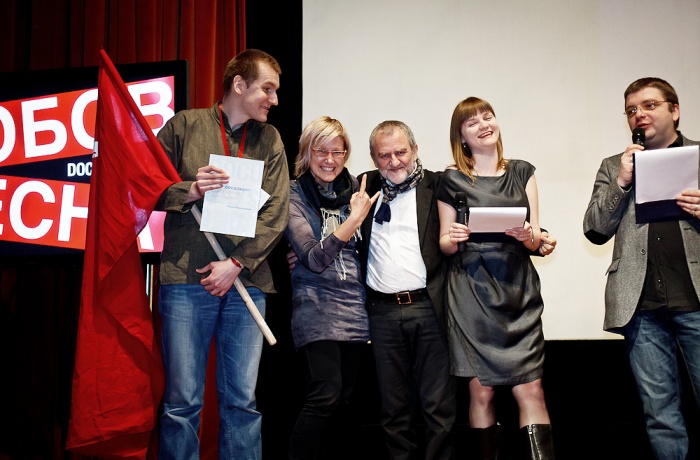 We invite you to the closing ceremony of Docudays UA on Wednesday, March 27, 7 pm, Red Hall of Cinema House. After the Awards Ceremony there will be screening of DOCU/LIFE competition program winner. Entrance is free of charge.
All the accredited at the Facebook page of the event are invited at Art Space 'Myn' for the closing party of the Docudays UA International Human Rights Documentary Film Festival. There will be the premiere of the restored film The Eleventh Year by Dziga Vertov (1928, Ukrainian SSR, 42') with music by Anton Baibakov. The event is brought up in cooperation with Oleksandr Dovzhenko National Centre at part of the project KOLO DZIGI.
The Eleventh Year is a documentary based on a Soviet newsreel shot during the 1920s, telling the story of the construction of socialism. It is the first film filmed by Vertov in Ukraine. The eleventh year of Soviet rule was a period of industrialization, as well as the building of DniproHES and other giants of Soviet industry. The director intentionally focused on this non-anniversary year to avoid holiday shows and official government celebrations.
The music for the film is composed by the Ukrainian composer Anton Baibakov. He has been working since 1998. As an independent musician he works constantly with well known Ukrainian bands (DakhaBrakha, Katya Chilly). In 2011 he won two prizes for best soundtracks at the Ibiza International Film Festival, Spain (I'm not Telling by Igor Kopylov) and the Open Night Film Festival, Ukraine (Hoydalka by Serhiy Myronenko).
KOLO DZIGI is a program to promote Ukrainian cinema, which was initiated by the Oleksandr Dovzhenko National Centre in 2011. As part of the program, performances (silent avant-garde film screenings accompanied by live contemporary music) are held every two months.