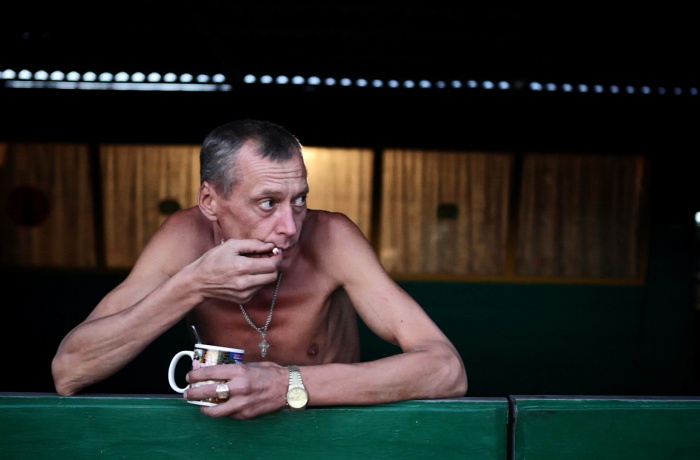 Russia. A country which is much heard of in any historical period. A country supplying the European continent with unrivalled literature, political autocrats and gas. A country of ideological and temperature extremes. What is the vast Russian landscape like in the critically focused view of documentarists? Are the Russian and Ukrainian brothers inseparable?
Watch the selection of films about Ukraine and Russia from April 7 to 20 at DAFilms.com for free!
Acclaimed at European festivals, The Other Chelsea is set in the socially excluded city of Donetsk in Eastern Ukraine. In the cloud of smoke from the omnipresent coal mines, the schedule of the football matches of the local Shakhtar Donetsk team is the only bright point in the lives of the locals. On the contrary, the protagonists of The Revolution That Wasn't do not spend their days in apathetic stereotype, having dedicated their lives to professional civil activism. Balancing on the verge of artistic happening and criminal offence, the representatives of the art movement Voina, too, have chosen their own way of fighting the current political system. Partners in art and life, Vor and Koza have decided for freedom of civil expression in the form of unorthodox artistic actions. What impact does their art have on their everyday life, including the life of their one-year-old son? Watch online in the next two weeks for free.
The past, as a space of memories and history, is revisited in Life Span of the Object in Frame. Based on photographs and stories from the former Soviet Union, the cinematic play brings the viewers into a dreamy state where it is not clear which memories are real and which are only daydreams. Mr Triskas Epoch Making Trip to Russia presents the personal history of a soldier – legionary; two generations later, his grandson, an ageing teacher, follows in his footsteps, searching for his family roots as well as for the roots of the nature of the Russian nation. The film journey to Café Voyage, too, takes the viewers on a walk down memory lane. After years spent as head of a collective fishing farm, a Ukrainian patriot and local witness ends up at the same place, however, this time as a "mere" guard of a private company. How does he evaluate the transformation of capitalist Ukraine? The seven films are wrapped up by the documentary On the Way Home examining the intimate relationship of a married couple whose daily bread is to wait; both for the return of the man from his long journey and for the onset of a deadly disease.
Ukraine is now at a crossroads. Which way will its "way home" take?