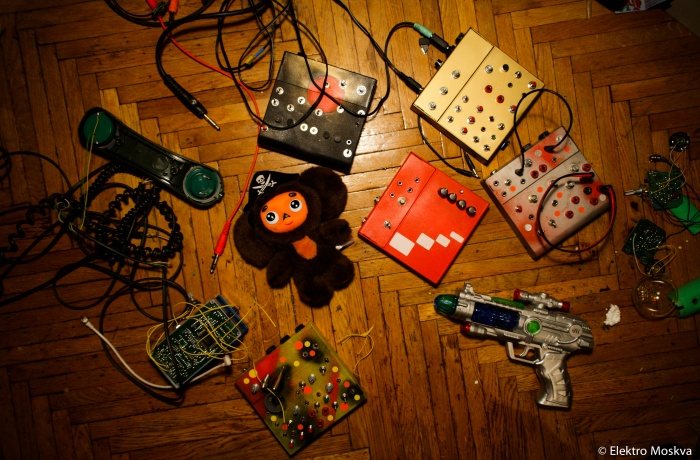 At 7:30 PM on July 9th, the Smaller Gallery of Mystetskyi Arsenal in cooperation with the Docudays UA International Human Rights Documentary Film Festival as a part of exhibition by Ujif_notfound and Dmytro Kornienko RECT_STRUCT: emotions/algoritms present the closing film of the 11th Docudays UA Elektro Moskva (Elena Tikhonova, Dominik Spritzendorfer).
Elektro Moskva is an essay documentary about the Soviet electronic age and its legacy. The story begins with the inventor of the world's first electronic instrument, Léon Theremin, unveiling the KGB's huge pile of fascinating devices, some of which were musical. They all came into existence as a by-product of a rampant defense industry. Nowadays, those aged and abandoned 'musical coffins', as solidly made as a Kalashnikov, are being recycled and reinterpreted by the post-Soviet generations of musicians, sound collectors and circuit benders. The story of the Soviet synthesizers is an allegory to the everyday life under the Soviet system: nothing works, but you have to make the best out of it. An electronic fairy tale about the inventive spirit of the free mind inside the iron curtain.
The film will be screened at the Smaller Gallery of Mystetskyi Arsenal, Lavrska St 10
Free entrance!
The RECT_STRUCT: emotions/algoritms project at the Smaller Gallery of Mystetskyi Arsenal consists of two installations by media artist Ujif_notfound, RECT_STRUCT (2013) and MASKS (2014), sharing the same algorithm which generates sound and visuals of the installation real time. The MASKS installation made in cooperation with Dmytro Kornienko uses plaster masks of artists' friends. The key concept of the installation is sense deprivation when a person is left in isolation for 5-7 minutes unable to talk or see, as well as confronted with his or her understanding of oneself as the Other meeting a 3D model of one's face. Any facial asymmetry, any wrinkle, even the length of eyelashes becomes objectified and produces narcissist and simultaneously thrilling effect. The installation uses masks as a material basis for virtual video projections made by RECT_STRUCT.