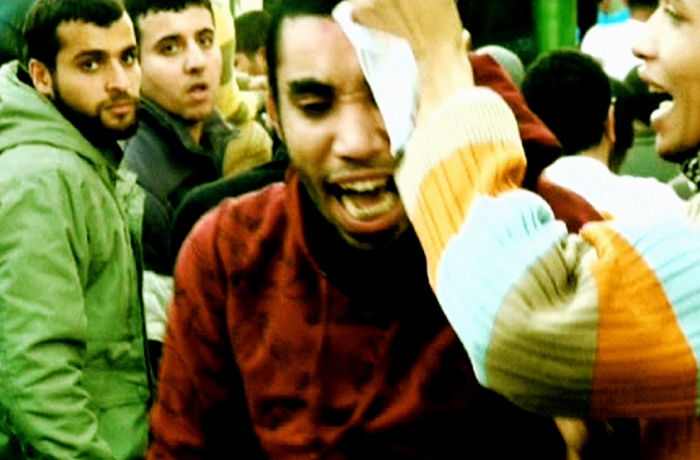 International Human Rights Documentary Film Festival Docudays UA continues a series of screening events in Ukrainian House (2 Khreshchatyk St, Kyiv, Ukraine).
Tonight at 9 p.m a film by Omar Shargawi and Karim El Hakim ½ Revolution will be screened. Entrance is free (the Maidan guards may ask for your ID).
Docudays UA joins the organization of film club within the exhibition center Ukrainian House, currently controlled by the Maidan protesters, has recently become a hotspot for self-assembled cultural, educational, and artistic initiatives.
A film which was included in the 2013 Docudays UA program Arab Spring, ½ Revolution by Omar Shargawi and Karim El Hakim tells about the 2011 Egyptian Revolution in Cairo. A close-knit group of activist friends struggle to stay alive and stick together as waves of protests escalate around them in their neighborhood near Tahrir Square. Armed with cameras and focused determination, directors take to the streets to capture the historic events out of view of the world's media.
"I have been following the situation there in Kyiv closely and have been shocked at the intensity of the images and determination of the people to affect change in the face of a seemingly immovable beaurocracy with entrenched interests. I surely hope a peaceful political solution can come out of the current impass. It seems to me that Ukraine is in a unique position to perhaps benefit from both big powers that are competing for influence there while maintaining an autonomy that can eventually enrich all citizens." (Karim El Hakim)
Moderator of the screening: Maksym Butkevych, human rights activist.