When, for the umpteenth time, filmmaker Tatjana Božić has found the love of her life and again things threaten to go terribly wrong, she decides that she should turn over a new leaf. This relationship must succeed! Tatyana visits five exes in Moscow, Hamburg, London and Zagreb to find an answer to the question of why all her love affairs always end on the rocks. The documentary is a confrontational, emotional, but at the same time humorous film, easily recognizable to every one of us, in which the filmmaker staunchly keeps searching for the holy grail of love: the Happy Ever After!
Production
JvdW film, De Kempenaerstraat 11B, 1051 CJ Amsterdam, the Netherlands,
[email protected]
, +31 20 68 85 049, Iris Lammertsma
Sales:
Cinéart, Herengracht 328 III, 1016 CE Amsterdam, the Netherlands,
[email protected]
, + 31 20 53 08 848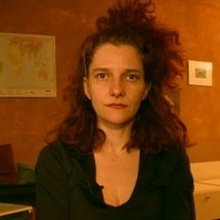 Director
Tatjana Božić
Tatjana Božić was born in 1971 in the Croatian town of Karlovac. At the age of 15, she moved to Moscow, where she was educated in TV journalism and filmmaking. She has worked freelance as a TV journalist, as a documentary maker and in advertising in Moscow, London and Croatia. Happily Ever After is Božić's first feature-length documentary.
Selected Filmography
Selected: Of No Strategic Importance (1993), Last Weekend at Petlura (1994), Distorted Reflections (2001), Sex o'Clock (2006)