This film raises an important question for us, the parents of different children: how do we bid farewell to someone while the situation forces us into a hand-tohand fight? If a baby kangaroo leaves his pouch at a certain moment, the handicapped child stays longer in the lap of his/her mother. Then the stake is, when does one dare to gently push him/her out? For his/her part, the child also has to prove to the mother that (s)he can become independent.
Production
Plexus Production, +32 474 39 43 73, plexusproduction@gmail.com, Olivier Malvoisin
Sales
ventes-cbawip-sales@skynet.be, Thierry Detaille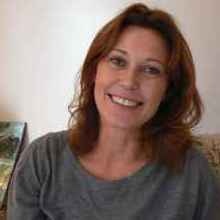 Director
Sarah Moon Howe
Sarah Moon Howe is a filmmaker and former striptease dancer. She earned a degree in clinical psychology in 1998. From 2006 to 2008 she was a dancer in a show choreographed by Wim Vandekeybus (Nightshade international tour).
Selected Filmography
Ne dites pas à ma mere (2003), Hope (2003), In Case of Loss of Pressure (2009)