19-year-old Bert sits in the shade of a tree in Yo Park. Cassandra Warrior feeds her daughter Diamond Rose. Daniel Runs Close sweats under the sun at the Wounded Knee Memorial site. Kassel Sky Little puts his boots on at the Waters Rodeo. Vanessa Piper is alone in the middle of Badlands. Lance Red Cloud hangs out behind the gas station at night. It is summer and they all live here, at the Pine Ridge Reservation in South Dakota, USA.
Production
Adomeit Film, +45 31418681, katja@adomeitfilm.com, Katja Adomeit
Sales
Film Republic, info@filmrepublic.biz, Ines Skrbic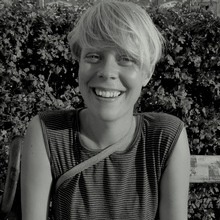 Director
Anna Eborn
Anna Eborn was born in February 1983 on the small island of Skaftö in Sweden, an island with no cinemas. She is an autodidact and divides her time between Denmark and Sweden. She has directed a number of short films, both fiction and documentary. Her film Baba was shot in Ukraine, and was distinguished at the Göteborg Film Festival and Nordisk Panorama in 2011. Pine Ridge is Anna's debut feature length documentary.
Selected Filmography
Baba (2010), Zmiivka (2014)