Thule lies in the extreme north of Greenland, and Tuvalu is a small island state in the Pacific Ocean. Despite this huge distance and their polarity, the two places are intimately related by a stroke of fate: whilst in Thule the ice is retreating ever further and turning into seawater, in Tuvalu the sea level is perpetually rising. The film deals with the people in Thule and Tuvalu whose lives are changing forever.
CREW:
Director: Matthias von Gunten
Producer: Valentin Greutert
Cinematographer: Pierre Mennel
Editor: Caterina Mona, Claudio Cea
Sound: Valentino Vigniti
Production
HesseGreutert Film AG, Langstrasse 14, CH–8004 Zürich,
[email protected]
, www.hessegreutert.ch
Sales:
Awards
2014 – Sesterce d'argent as Best Swiss Film (all sections) at Visions du Réel; 2015 – Best Documentary and Best Cinematography at Swiss Film Prize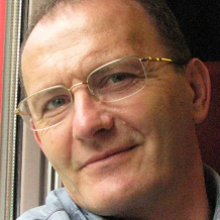 Director
Matthias von Gunten
Matthias von Gunten was born in Basel in 1953. He attended the University of Television and Film in Munich from 1975 to 1980, graduating with his feature film Quelle Gunther. He subsequently worked as an editor, cameraman and director's assistant on various film productions. Since 1986 he has directed numerous documentary films for cinema and television.
Selected Filmography
Selected: Journeys into the Interior (1988), Coincidence in Paradise (1999), Max Frisch: Zurich Transit – The Failed Film Project (2011)