For two decades, the Yes Men have pulled off spectacular media hoaxes to expose corporate crimes. Now, these hilarious activists are approaching middle age, struggling to stay inspired in their fight against climate change. Can they get it together before the ice caps melt?
CREW:
Director: Laura Nix and the Yes Men (Andy Bichlbaum, Mike Bonanno)
Producer: Jacques Servin, Igor Vamos
Cinematographer: Raul Barcelona, Martin Boudot, Christopher Clements, Anne Etheridge, Brandon Jourdan, Laura Nix, Juan Luis Passarelli, Sam Spreckley, Keil Troisi
Editor: Søren B. Ebbe, Claire Chandler, Geraud Brisson
Sound: Roar Skau Olsen
Production
AUM Films, First Spark Media
Sales:
Cinephil, Tel.: +972 54 496 1114, Philippa Kowarsky,
[email protected]
, www.cinephil.co.il
Director
Laura Nix
Laura Nix directed the documentary The Light In Her Eyes, about a Syrian Quran school for women, which premiered at IDFA in 2011, was broadcast on the series POV on PBS, and toured the world as part of Sundance's Film Forward program. Her other feature directing credits include the critically acclaimed fiction feature The Politics of Fur, which played in over 70 festivals internationally and won multiple awards, including the Grand Jury Prize at Outfest, and the feature documentary Whether You Like It or Not: The Story of Hedwig, for New Line Cinema. Nix co-wrote the Emmy-nominated PBS doc California State of Mind: The Legacy of Pat Brown, about the former state governor. Her nonfiction television work has appeared on HBO, IFC, Planet Green, and the History Channel.
Selected Filmography
Selected: The Politics of Fur (2002), The Yes Men Are Revolting (2014)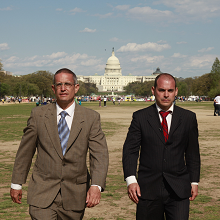 Director
The Yes Men
The Yes Men impersonate big-time corporate criminals to draw attention to their crimes against humanity and the environment. Their outrageous satirical interventions at business events, on the internet, television, and in the streets form the basis of two award-winning documentaries, The Yes Men and The Yes Men Fix the World, festival favourites in Toronto, Berlin, SXSW and others. Their work has been shown in the Whitney Biennial, Venice Biennale, ARS Electronica, and other art exhibitions. They have received numerous awards, including Creative Time's Leonore Annenberg Prize for Art and Social Change, the Grierson Documentary Award, the Berlinale Panorama Audience Award, the United Nations Association Film Festival Grand Jury Award, the Best Documentary Award at HBO Comedy Arts Festival, and the Audience Award at the International Documentary Festival Amsterdam. They are the authors of several books and many articles, and lecture internationally on art and social change.
Selected Filmography
Selected: The Yes Men (2003), The Yes Men Fix the World (2009)