Screening of the documentary film "The Trial: The State of Russia vs Oleg Sentsov" by Askold Kurov is a special event at this year's festival.
The shooting of the film about Ukrainian film director Oleg Sentsov, unjustlty imprisoned in Russia, began in July 2014. In August 2015, the North Caucasus District Military Court in Rostov-on-Don sentenced Oleg Sentsov to 20 years of prison. Oleg is accused of preparation of terrorist attacks in Russian-annexed Crimea.
"The film is called "The Trial" not only because of a court process on Oleg Sentsov. - director Askold Kurov says. - There are also processes that take place in the society and in the country. There are many "kafkian" things about them. First of all, the absurdity of everything that happens. For example, one of the proofs of Oleg Sentsov's connection to Pravyi Sector and of his fascist sympathies is absolutely antifascist film "Common fascism" by Romm. Or, for example, when nothing was found during the first search in Oleg's house, but after the second search in isolator they magically found a gun and a shell wrapped in "Cinemotion" newspaper. Oleg joked that in order to leave no doubts, they should have wrapped them in a poster of his own film."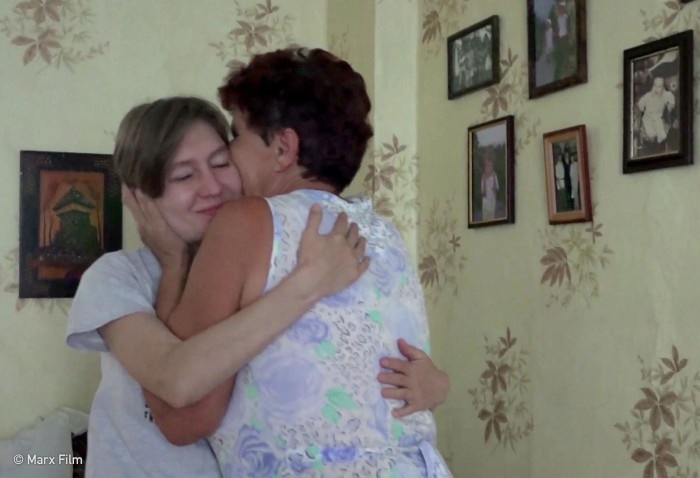 "Trial" by Askold Kurov
"But the most important thing about the parallel with the "Trial" by Kafka is that a person faces this machine, this system, where any dialogue is impossible. Such system exists and works according to it's own scenario, and the result is known in advance. The fates of Oleg and Kolchenko are predestined, but the spectacle is necessary, where people play judges and prosecutors".
"Oleg's word with it's culminational energy and clarity with which he expresses his position is for me the film's culmination and final. I don't want this story to be just a journalist film or a portrait, a court film or an investigation film. I would like all of this to sound together."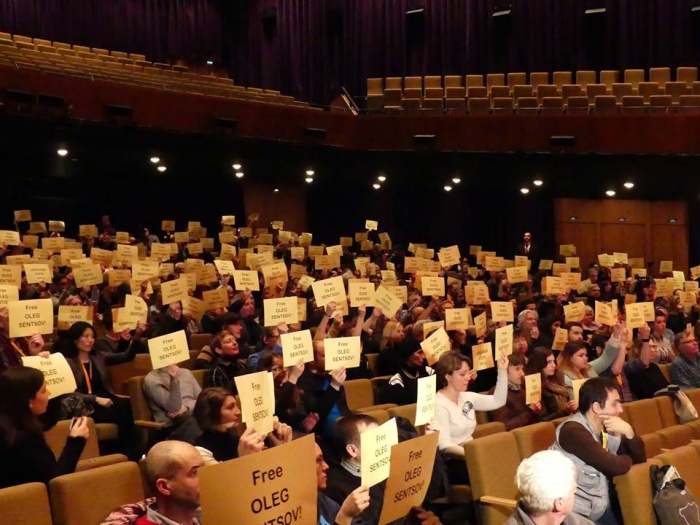 Photo from official page of film "Trial" on Facebook
The world premiere of the film took place at Berlinale. Here, at the premiere, European Film Academy called The Government of the Russian Federation to free the Ukrainian director. After the screening around 650 viewers lifted up yellow boards with words "Free OLEG SENTSOV!" written on them.
Docudays UA film festival starts this year on March, 24th. The screenigs schedule will be available on the website soon.