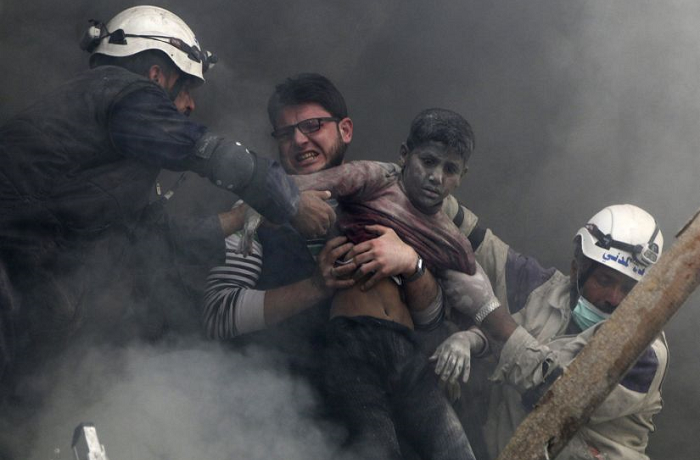 Syrian filmmaker Feras Fayyad's breathtaking work – a searing example of boots-on-the-ground reportage – follows the efforts of the internationally recognised White Helmets, an organisation consisting of ordinary citizens who are the first to rush towards military strikes and attacks in the hope of saving lives. Incorporating moments of both heart-pounding suspense and improbable beauty, the documentary draws us into the lives of three of its founders – Khaled, Subhi, and Mahmoud – as they grapple with the chaos around them and struggle with an ever-present dilemma: do they flee or stay and fight for their country?
CREW:
Director: Feras Fayyad
Producer: Soren Steen Jespersen, Kareem Abeed
Cinematographer: Thaer Mohammed, Mojahed Abo Aljood
Editor: Steen Johannessen, Michael Bauer
Sound: Morten Groth Brandt
Production
Larm Film, Aleppo Media Center
Sales:
DR Sales
Awards
2017 – Sundance Film Festival, Grand Jury Prize; Jihlava International Documentary Film Festival, Best Testimony on Politics Award; DocsBarcelona, New Vision Award; CPH:DOX, DOX:AWARD; 2018 – Academy Awards nomination for the Best Documentary Feature
Director
Feras Fayyad
Feras Fayyad is an award-winning filmmaker. He was twice held by Bashar Assad's intelligence because of his film on the other side. He studied filmmaking and arts and has directed and edited several films, both documentary and fiction. He has participated in international film festivals and received recognition for his work about contemporary Syrian issues and the political transformation in the Arab world. He started worked on his film Last Men in Aleppo two years ago, and his previous films include Behind the White Color and My Escape.
Selected Filmography
Selected: Wide Shot-Close Shot (2013), Last Men in Aleppo (2017)