In search for a visual expression of this year's DOCUDAYS UA topic, human rights in the digital era, we invited the Ukrainian artist Oleksiy Sai to work with us. His series of works are created in Excel spreadsheets and deal with the culture of corporate society and everyday life in the age of digital technology. We asked the art critic and curator Maks Kovalchuk to talk with Oleksiy about the changes brought to the contemporary world by office jobs and the internet, and about art, everyday life and the need for noise.
Oleksiy, as for your Excel series, it's very painstaking, monotonous and labour-intensive work. Just how we imagine the office work...
Yes, I sit and work without distractions. If I get distracted, I forget what I need to do and have to start the whole process from scratch. This work is probably not as responsible as in the case of office workers, because I don't calculate anything, I don't deal with numbers, but the activity is meditative and boring.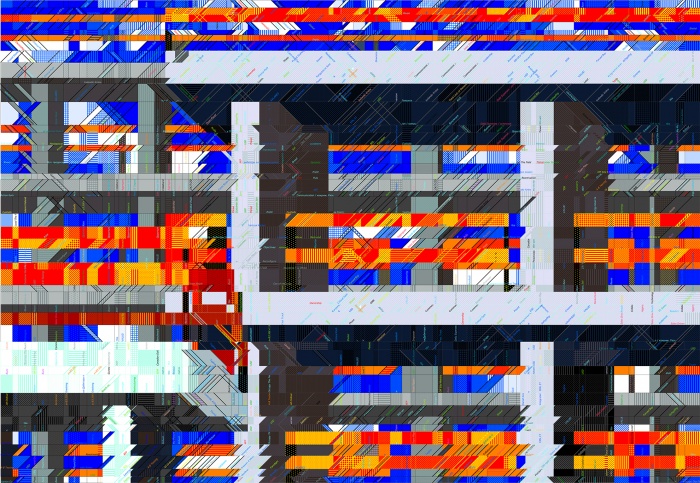 If it's such a complicated process that requires a lot of time and effort, why don't you reject it and choose a different one?
I take breaks to do other kinds of series, and I've wanted to finish this one for a long time. But sometimes I dig in and discover something new, there's this excitement. The series cannot be labelled as conceptual art, where each work has its own meaning. The whole series conveys a certain unified feeling.
Could you say that art has a certain status in the corporate society? And has it changed in any way since art also became digital?
People are not very serious about art. I don't think it has a certain status. "I like it" or "I don't like it", that's what determines the attitude. There are just some people who pay attention to art, and some for whom it's more of a decoration. In this sense, the ratio hasn't changed much, in my opinion. It doesn't matter if it's digital art or not. I think that today, any average viewer is used to the fact that art can be different.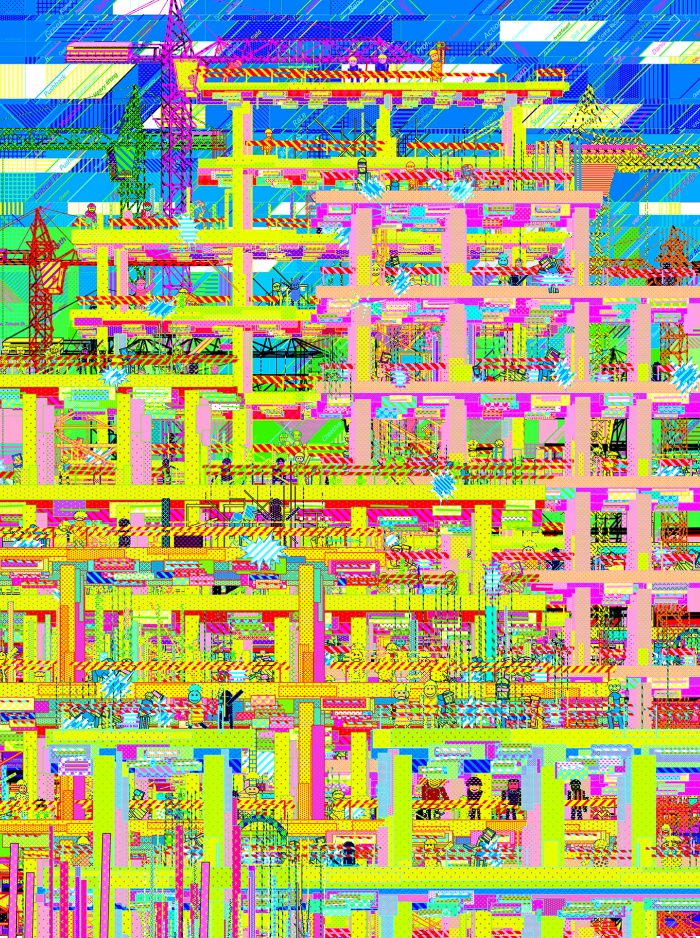 The topic of corporate societies is one of your signatures. Why are you interested in it?
I picked up the topic when corporate culture was in a severe state in our country, in the late 1990s. It was weird, unnatural and took very clearly defined forms. And now I am observing a kind of disintegration in corporate societies and their transformation. Clearly, this way of life is changing, but it's just a little world which very few people care about.
I am interested in the system of interaction between people, how it works across the world. Today, absolutely everyone can talk to each other, if they are not divided by a wall of religion or some kind of orthodoxy. I, of course, think that this is related to the economy. For example, practically anyone can engage in trade nowadays. In any case, there are more opportunities than when someone, say, grows a beetroot and exchanges it for a marten.
Natural barter...
And now our natural barter goes through the Alibaba platform.
Do you buy anything on the Ali?
No, but once I tried to buy some aluminium profile. I've been receiving fresh offers to buy aluminium from China every month ever since.
Corporate society's activities take ugly forms which self-reproduce, just like in the 1990s. But nowadays people have learned to distinguish between work and private life, to choose priorities, to communicate. There is a rule that you do not intrude in people's emotional life.
Against this background, could you say that the art world has corporate ethics?
I don't see any corporate ethics among artists. Artists do not have to follow rules, they don't communicate so actively based on friendship or discord. There is no subordination, so there is no mandatory code, dress code...
Then here's a specific situation around the national pavilion at the Venice Biennale. The artists divided into two groups, those who support the outcome of the competition for the project that will represent Ukraine in Italy, and those who are against it.
The most interesting thing here is the old ladies at the rallies. It's amazing that these hired protestors who do not understand the essence of the conflict are speaking out in this narrow professional matter.
The confrontation that you are talking about is not within the art sphere. It's a confrontation between stakeholders. I think that the project that came second should be presented at some other festival, rather than trying to break through by force in this situation. Of course, the artist wants to express themselves, but it should be done in a way that the statement doesn't become bigger than the work itself.
When you work, you put on old TV shows…
I put on the same ones over and over. Or, to be precise, I have three TV shows that I watch over and over. When I work, it's important for me that I don't receive any new information. But I start losing my mind in complete silence. Music requires concentration. But the same TV story with its shootouts, spies and intense soundtracks is something that helps to immerse me in the rhythm and work without pause. These are old American and British spy shows. The British one is more depressing, it has the A-bomb, chemical weapons, everything is very bad in this world. I open it in a small window, and it keeps on mumbling somewhere. But when I don't work on this series of artworks, I never watch TV shows.
What is your position regarding the technical reproducibility of digital art?
It's easy. I don't make copies, I print out only one. When I do things, I realise that each of them is unique. I like creating something new, and not expecting the majority of viewers to be interested in it. Otherwise I would rather work in business and produce something useful for people in large quantities.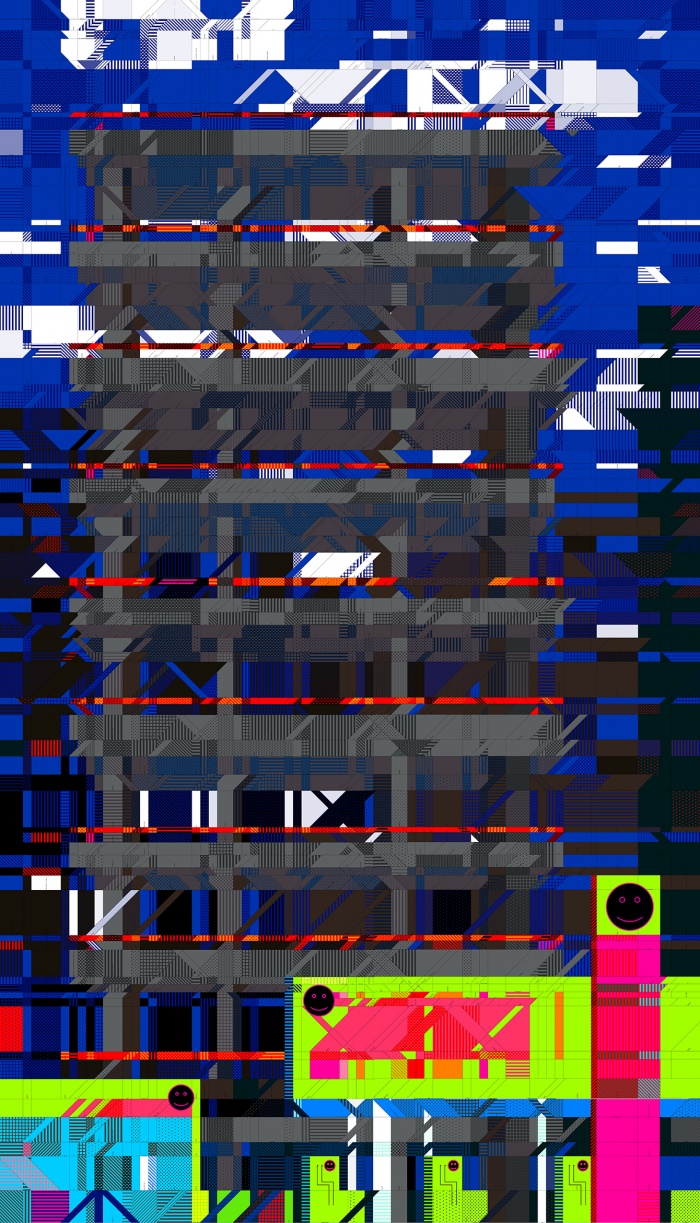 Since you don't have any institutional backing, you don't receive grants, you're a self-employed artist. How do you resolve the issue of leisure and rest in this situation?
Sometimes I'm busier than office workers. Often I cannot even plan anything. While office workers know that in July-August they're going to get the number of free days that are due to them, and they go to a tourist agency and buy a tour, I don't have that luxury because everything is decided on the last day.
How long has it been since you lay under a palm tree on the beach?
It's been a while. I did it in 2015. I have some diversity in life which replaces vacations for me, but it's impossible to plan anything. I used to wake up every day at 8 and go to work. Now I have to discipline myself, limit myself. In this sense an artist works in the same way as other people. But I rarely have an ordinary 8-hour workday, usually I work more. I come home late, I have no time to spend with my kids. Today, I was at the housing and communal utilities office.
Is there anything in the art world that annoys you?
I'm annoyed with the desire to be liked by anyone. It's not even a characteristic of artists, it's a feature of their artworks. It's probably related to my upbringing. I think it limits the work.
I'm also a bit annoyed by the exaggerated importance of conflict for resolving issues. But artists probably have less of this than, say, the business world.
I cannot say that the art world is sick. The unstable situation of artists is linked to the absence of the art market. An artist is tied to society: if that society doesn't need anything from the artist, then he or she has a bad life. And there's nothing we can do about it except elect presidents, governments, pay taxes and so on. We cannot just reject the state. At the same time, I think that the position of those political artists who do not live like the people they defend is arrogant. I mean, if an artist doesn't live a political life and only addresses it in their art, it's not completely honest.
Interview by Maks Kovalchuk