Every year, thousands of Ukrainian Christians undertake a pilgrimage to Zarvanytsia, a sacred place. Between prayers they share news, brag about their wealth, take pictures of chapels, give interviews, witness miracles. Witness miracles?
CREW:
Director: Yarema Malashchuk, Roman Himey
Producer: Valeriya Sochyvets
Cinematographer: Yarema Malashchuk, Roman Himey
Sound: Serge Avdey
Production and Sales
Contemporary Ukrainian Cinema / СУК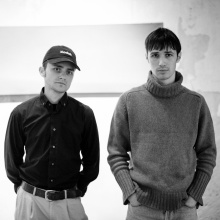 Director
Yarema Malashchuk and Roman Himey
Yarema Malashchuk and Roman Himey are a filmmaking duo based in Kyiv. They graduated as cinematographers from the Institute of Screen Arts (Kyiv, Ukraine). Since 2013, they have been working together on the edge of visual art and cinema as artists, film directors and cinematographers. In their work, they explore the image of the crowd as a separate character in history and culture. Their films have been screened and exhibited in Mexico, Italy, Germany, Austria, Canada. They were awarded the Special Prize at the PinchukArtCentre in 2018, the Grand Prix at the Young Ukrainian Artists Award (MUHi 2019), Best Short Documentary at the Festival Internacional de Cine Silente México, and Best Production Award at the Fashion Film Festival Kyiv. They collaborated as cinematographers with the Dutch duo Metahaven (Hometown, 2018) and the film director Phillip Sotnychenko (Son, 2015; Technical Break, 2017).
Selected Filmography
State Institution (2017), New Jerusalem (2019)