Eva – 25, a drifter, a Berliner, poet, pet-owner, sex worker, Virgo, recovering addict, housewife, feminist, model – declared privacy an outdated concept at the age of 14. This is the tale of a young woman growing up in the age of the internet, turning the search for oneself into a public spectacle, challenging you about what a woman 'should be'. Through her fragmented personalities you see the emergence of a generation, in which the concept of a fixed identity has grown old. A portrait of modern existence.
Recommended age 21+

CREW:
Director: Pia Hellenthal
Producer: Erik Winker, Martin Roelly
Cinematographer: Janis Mazuch
Editor: Yana Höhnerbach
Sound: Marcus Zilz
Production
CORSO Film
Sales: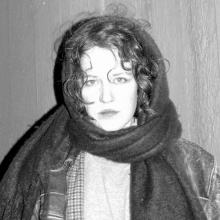 Director
Pia Hellenthal
Pia Hellenthal is a Cologne-based writer & director working in fiction and documentary. In 2013, she graduated from the Academy of Media Arts Cologne with a diploma in Media and Fine Art. Her short films have been screened at various international film festivals like Karlovy Vary and Berlinale, and received prizes like the Special Mention in the CPH DOX Competition and the Outview Audience Award for best film. Next to her own films, Hellenthal has been working for publications like VICE, where her work was nominated for the Lovie Awards and licensed to international TV stations.
Selected Filmography
Ganoven (2012), Palim Palim (2013), Reborn Babies (2015), Searching Eva (2019)