We are looking closer at each of the films in the DOCU/UKRAINE national competition. Today we focus on Tales of a Toy Horse, a film by the directing duo of Ulyana Osovska and Denis Strashny. The film's protagonist, Anatoliy Liutiuk, leaves his solitary life to go to the frontline towns of Ukraine with a volunteer mission. Here, as he delivers humanitarian aid, Anatoliy and his wooden toy horse collect stories about kindness in the relationships between people and nature. Aliona Penziy talked to Ulyana and Denis about creating the film, working together, collaborating with Anatoliy, and about the incredible stories of mutual aid between people and animals in the "grey zone."


What motivated you to make this film?


Denis Strashny: When I got to Tallinn, I was impressed by the old town and the Ukrainian Culture Centre created by Anatoliy. Around the same time, I heard the phrase "Transmitting information through wood" from him for the first time, and this concept really interested me. And when I saw the monastic technology for creating handmade paper first hand, I realized that I definitely want to shoot a film here.
Ulyana Osovska: The motivation for me was to look for something constructive in this insane world.
You work together as directors. How do you distribute the areas of responsibility?
Denis: We do not really distribute areas of responsibility and obligations: each of us does what they can and invests 300%, and then something works out. We are both involved at all stages, maybe only sometimes I deal with the more technical aspect of production, and Ulyana communicates with partners.
Ulyana: From the very beginning, we had a shared feeling of what this film must be like. We just watch another cut and we know what works and what doesn't. If it doesn't, we try to figure out why. This is our shared story in which we found ourselves together from the very beginning. So as directors, we don't even divide responsibilities. We sometimes argue about details, but generally we make decisions in sync.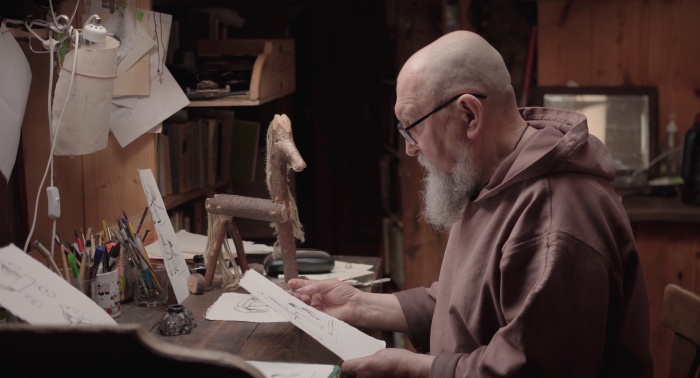 A Still from Tales of a Toy Horse

How did the protagonist affect you during filming? What have you learned from Mr. Anatoliy?
Denis: Anatoliy and I have known each other for seven years, and these years have changed me a lot. I noticed that in the time I've spent with Anatoliy, I started saying the word "good" out loud more often, instead of the usual "OK." And in general, I think I've started looking at things more simply. We've also realized that endlessly redoing something you don't like until you are satisfied with the result a hundred percent is normal.
Ulyana: I want to think that I have learned restraint. In general, I am a very expressive and emotional person, but during our trips to Donbas it was inappropriate. It was hard to keep the emotions inside, sometimes I even thought, "Wow, how does Anatoliy manage to be so calm? Isn't he affected by what we're seeing right now?" And then, in our conversations, he shared his observations about the situations, and his perspective on them was much deeper and more attentive than mine. Then I realized that this emotional discipline helps to see more around you, rather than get distracted by your own thoughts.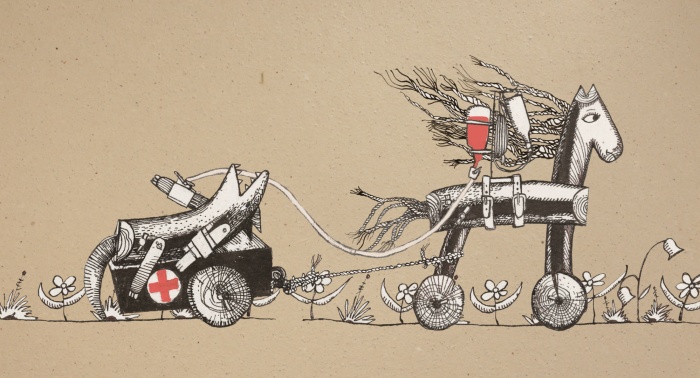 A Still from Tales of a Toy Horse


Your film has animated fragments. Why did you decide to use this method? Tell me more about your work with the animation artist.

Denis: In our case, animation is another narrative tool, just like documentary material. A few times we managed to film people in conversations with Anatoliy mentioning various cases of mutual aid between people and animals during the war. Later, Anatoliy himself created illustrations for these stories, so we just couldn't help but look for like-minded animator partners to depict it.
Rodion Shub and the Ridni Animation Studio agreed to take part in our venture, and to be honest, it was a great pleasure to work with them and watch our ambitious idea being implemented so masterfully and accurately.
Ulyana: Animation allowed us to bring the protagonist's imagination to life. And we won a jackpot with the animation studio: we worked with siblings, Rodion and Maria Shub, the cameraman Pavlo Oleksiyenko and the illustrator Mara Zabashta. They just did some incredible things. We have footage for 1-2 seconds where paper is burning, and it's not VFX, they actually burned and filmed paper at the studio for a good part of the day, because it looks cooler. Part of the animation was filmed in Tallinn, where we were very pressed for time. RIDNI hardly even slept, but they still did everything thoroughly and with love.
Which of the stories about animals included in the film, or which you learned about during filming, struck you personally, and why?
Denis: Our favorite story is about an owl, it was told by the headmaster of Toshkivska School, Volodymyr Cherkass. In 2014, an owl started flying into the school window during classes. It lived under the building roof. The headmaster decided that it was a bad sign and ordered to let the children go home immediately. And just in an hour, a missile hit the school and destroyed one of the buildings completely. Thanks to the owl, nobody was injured that day.