The International Leipzig Festival for Documentary and Animated Film is one of the most powerful cultural events in Germany. Every year, its industry platform becomes the main meeting place for a wide range of documentary film professionals from around the world. We will introduce you to the first part of the DOK Industry events, in which Ukrainian participants will take part.


This year, the DOK Leipzig team, together with Docudays UA, the Ukrainian Institute, the Goethe-Institute, the Goethe-Institute in Exile initiated broad support for the Ukrainian film industry. This is an opportunity for producers to find partners for their projects and a platform for discussion, namely a discussion of an example of collaboration between Ukrainian professionals and international broadcasters.
"This year, the selection process was a humbling and inspiring experience at once. Confronting a global momentum of uncertainty, aggression, and adversity, filmmakers and producers are pushing to express themselves and create new works that reflect and challenge the world around them," says Nadia Tennshdedt, the coordinator of the DOK Leipzig industry platform.


The Ukrainian Institute, with the support of the Goethe-Institute and the Goethe-Institute in Exile, will present a delegation of Ukrainian producers. It includes five professionals from the film industry: Ivanna Khitsinska (Quatros Group), Hlib Lukyanets (Gogol Film), Andrii Kotliar (BABYLON'13), Anna Kapustina (Albatros Communicos), as well as Karina Kostyna (Tabor Production).
On 18 October, DOK Industry Talk invites you to the event Case Study: One Day in Ukraine. Lucie Kon (BBC Storyville) and Ihor Savychenko (BABYLON'13) will participate in the discussion, moderated by Zane Balčus. The panellists will present the result of direct and successful cooperation between the production association BABYLON'13 and BBC Storyville on the example of the film One Day in Ukraine by Volodymyr Tykhyy. Event attendees will discuss this example for future collaborations and opportunities to bring individual visions and voices to a wider audience. Lucie Kon and Ihor Savychenko will share what was important to each party in this process, recall the challenges and issues they faced, and explain how they completed this project successfully.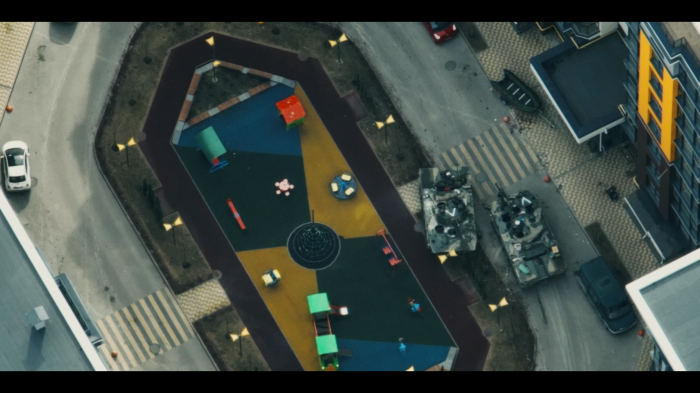 One Day in Ukraine
dir. Volodymyr Tykhyy
prod. BABYLON'13, BBC Storyville
This film plays out in Ukraine on a single day: 14 March, 2022, the 2,944th day of the Russian-Ukrainian War. In the past few weeks, intense warfare has surreally mixed places and people and created a post-apocalyptic dimension, revealing new qualities and roles. Thousands of Kyivans have moved to live in subway stations. The capital city's previously calm suburbs have been transformed into battle zones of destruction and looting by Russian occupiers. People no longer live according to 'weekdays' or 'weekends', counting the number of days since Russia's full-scale invasion of Ukraine instead… The film presents this day in the lives of a pop music star, video engineer, historian, art restorer, polar researcher, and pensioner, who were all forced to radically change their lives.
On 20 October, Docudays UA and the Ukrainian Institute invite all accredited guests who want to meet new colleagues and friends to the Get Together networking event.


Soon, we will introduce you to Ukrainian projects that will be presented within the DOK Leipzig-2022 industry platform.

Main photo: a still from One Day in Ukraine

_________
The Spotlight on: Docudays UA 2022 programme was made possible with the support of Federal Government Commissioner for Culture and Media (BKM). Thanks to support by the Ukrainian Institute and the Goethe-Institut and Goethe-Institut in Exile, additional filmmakers and delegations from Ukraine will be able to participate in the festival and the industry offerings in Leipzig.