In 1970, 1500 hippies and their guru Stephen Gaskin founded a commune in rural Tennessee. The members forked over their savings, grew their own food, delivered their babies at home and built a self-sufficient society. Raised in this alternative community by a Jewish mother from Beverly Hills and a Puerto Rican father from the Bronx, filmmakers and sisters Rena and Nadine return for the first time since leaving in 1985. Finally ready to face the past after years of hiding their upbringing, they chart the rise and fall of America's largest utopian socialist experiment and their own family tree.
Production and Sales
Mundo Sisters, Rena Mundo Croshere, Nadine Mundo,
[email protected]
, www.mundosisters.com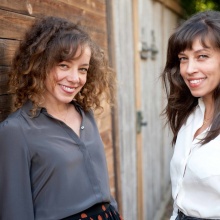 Director
Rena Mundo Croshere and Nadine Mundo
Rena Mundo Croshere and Nadine Mundo are a sibling directing team and co-owners of the production company, Mundo Films. The sisters work as a team with a shared skill set of directing, producing, writing, editing and story development. They both began their careers in college. While at New York University, Rena directed a documentary about teenage prostitution in Cuba, called Prostitution Y Tourismo. While studying at San Francisco State University, Nadine directed and edited Art of Survival, a documentary about capoeira (an Afro-Brazilian martial art) and inner city youth. American Commune is their first feature documentary.
Selected Filmography
American Commune (2012)