A local businessman reopened a failed seafood-processing plant at Prospect Harbor, Maine, USA. Sherman Frank Merchant is the one whose work underpins the seafood industries here. In a battered black beret and with a cigarette always close at hand, Sherman Frank Merchant digs for clams, boiling some for his own dinner before heading to the seafood-processing factory at night. A man of few words, he silently sharpens instruments and cleans and organizes equipment for the day workers. Performed in silence and solitude, his routine prepares the factory for the chatter and bustle of the day.
Production and Sales
Carnivalesque Films, David Redmon, Ashley Sabin +12034173136,
[email protected]
, www.carnivalesquefilms.com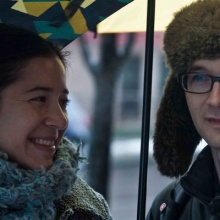 Director
David Redmon and Ashley Sabin
David Redmon and Ashley Sabin have produced, directed, edited and photographed six feature documentaries. Redmon received his PhD in sociology from the University at Albany, the State University of New York. In 2010-11 he was a Radcliffe Fellow at Harvard University. Sabin received her BA in Art History from the Pratt Institute.
Selected Filmography
(selected): Mardi Gras: Made in China (2005), Kingdom of Animal (2012), Downeast (2012), Girl Model (2011), Kamp Katrina (2007)