The documentary film Woman and the Glacier will look at the daily life of the woman in the middle of a frigid glacier of staggering beauty. It a story about a passion for solitude.
CREW
Director: Audrius Stonys
Producer: Radvile Sumile
Cinematographer: Audrius Kemezys
Editor: Mirjam Jegorov
Sound: Seppo Vanhatalo
Production
UKU films, Nemencines pl. 10-29, Vilnius 10101, Lithuania, +370 6153 0910, ukufilms@gmail.com, Audrius Stonys
Sales
UKU films, +370 6867 8415, ukudistribution@gmail.com, Radvile Sumile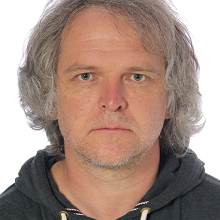 Director
Audrius Stonys
Audrius Stonys is an independent film director and producer, member of the European Documentary Network and the European Film Academy. He represents Lithuania on the board of the European Cinema support fund Eurimages. He has made 20 films as an independent filmmaker and producer, and won numerous international film awards, including the public prize in Nyon, the Grand Prix in Split, and prizes in Bornholm, Neu Brandenburg, Bilbao, Florence, Oberhausen and San Francisco. His 1992 film Earth of the Blind won the FELIX European Film Academy award for Best European Documentary Film of the Year. In 2004—5 he worked as a teacher of documentary film at the European Film College, Denmark. He has organised retrospectives and workshops in Israel, Russia, Germany, USA, Spain, Belgium, Turkey, India, the Czech Republic, France and Japan.
Selected Filmography
Selected: Open the door to him who comes (1989), Earth of the blind (1992), Apostle of ruins (1993), Antigravitation (1995), Flying over blue field (1996), Harbour (1998), 510 seconds of silence (2000), Alone (2001), Countdown (2004), Ukuukai (2006), The bell (2007), Ramin (2011), Cenotaph (2013), The gates of the lamb (2014), Woman and the glacier (2016)