How do Polish industry platforms help filmmakers finish their work? How do documentary filmmakers themselves work with editing and the "skeleton" of the future story? In her blog, the Docudays UA program coordinator Darya Bassel shares her experience of attending DOC LAB POLAND at the Krakow Film Festival and tells us about the Ukrainian stories which we can expect from documentary filmmakers as early as next year.
DOC LAB POLAND is a platform created for Polish documentary filmmakers to strengthen their connections with international colleagues. It's focused on supporting auteur, creative documentary filmmaking. Its goal is to provide a comprehensive support program to the selected projects; the program consists of seminars, individual consultations and panel discussions. Every year, the program ends with a workshop and a pitching which are part of the Krakow Film Festival's industry platform.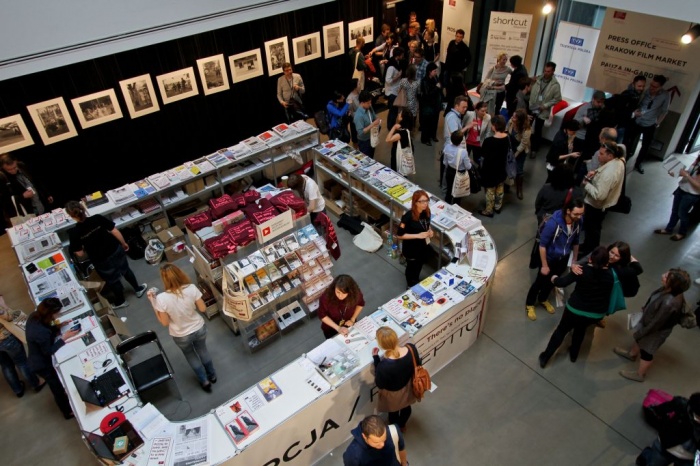 DOC LAB POLAND consists of two parts: at DOC LAB START, tutors work with projects at the stages of development or early production; DOC LAB GO provides consultations to projects which already have a rough cut.
This year, I was invited to participate in the pitching of projects at the final stage of production (DOCS TO GO!). 8 projects of future films were presented to festival selectors, distributors and journalists. Most of them will be out by November this year (many, of course, hope to be selected for the IDFA — which may indeed happen, because the expert team included one of the IDFA senior programmers).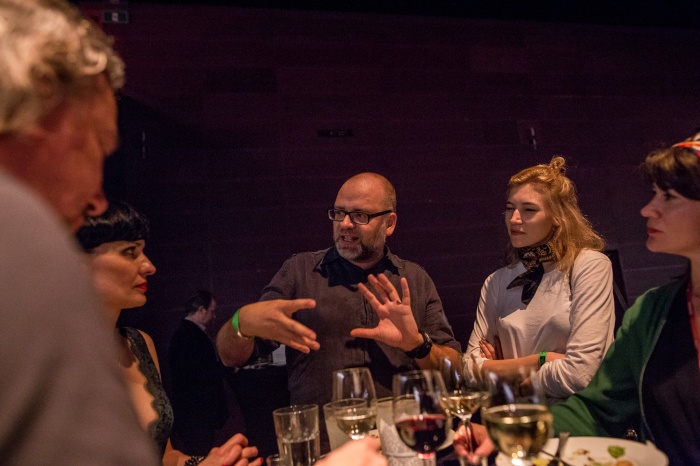 Adam Slesicki, one of the organizers of DOC LAB POLAND, at the closing party
I liked the fact that the projects were very different: from docucomedies, perfect for TV, and to found footage films whose audience is usually very limited (which, of course, doesn't make them less interesting).
Two of the projects were connected to Ukraine. And these are the projects I would like to focus on here.
Shadows of the Empire (dir. Karol Starnawski, prod. Dariusz Sidor) is a story of three soldiers, Oleksiy from Nagorny Karabach, Tymur from Ukraine and Oleksandr from Georgia. Nothing connects them, except for the war and geography (all three stories are from former Soviet republics where wars were started with the direct involvement of the "Big Brother", Russia). Another point of intersection in the future film will be the condition in which people find themselves after participating in wars. Unfortunately, this topic is going to be relevant to us for a long time.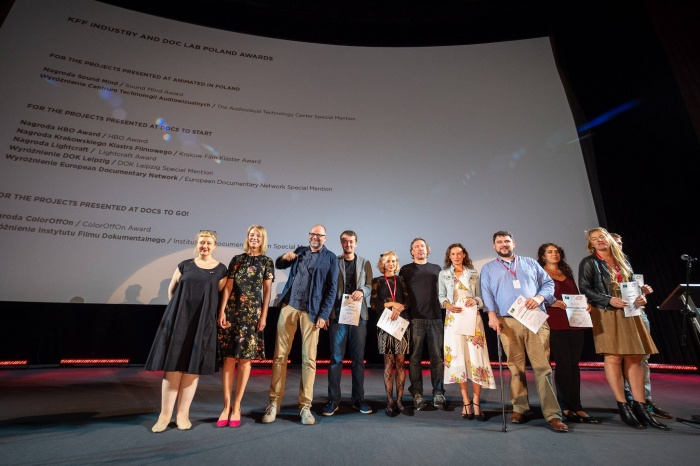 Organizers and participants of DOC LAB POLAND at the award ceremony
Compulsory Figures (dir. Ewa Kochańska, prod. Magdalena Borowiec, Tatiana Matysiak) is a story of a relationship between a mother and a daughter. For those who have seen Over The Limit, directed by Marta Prus (by the way, the film has won a record number of awards at the closing ceremony of the Krakow Film Festival), the comparison will seem inevitable. Compulsory Figures is also a story about the cruel world of professional sports. But not only. The daughter, the 10-year-old Yulia, is a figure skater. The mother, 37-year-old Marina, after emigrating from Ukraine with her family right after the Euromaidan (as the director explained to me, this decision was dictated not by political views or economic problems, but by the desire to achieve good future and great opportunities for her children), has turned her daughter's brilliant career into her main purpose in life.
Maryna, a classic "strong woman," monitors her daughter's every step and does not let her relax for a moment. She employs both shouting and crying. Will the daughter survive under her mother's pressure? Will the family settle in Poland? This film raises many questions, but most importantly, it has stunning characters with whom the director managed to establish very close contact. As a result, we witness the most intimate family scenes, both tragic and comical, which are familiar and understandable for every woman who has ever been a daughter or a mother.
Text: Darya Bassel
Photo credit: The official page of the Krakow Film Festival