Deep in the heart of the American Rust Belt lies Rockford, Illinois. Growing up here, all you can look forward to is unemployment and poverty. But three high school friends find an outlet through skateboarding, and one of them, Bing Liu, films all their adventures. What he also captures is the abruptness with which they are catapulted into adulthood, with its dead-end jobs, babies, and reflections on what it actually means to be a man. Years later he returns to his hometown to find out what has happened to his friends. The director breaks pretty much every rule of documentary filming: he appears in his own film, and sometimes talks directly to camera. At one point Minding the Gap even resembles a therapy session, with the filmmaker processing the abuse he suffered from his father and warning his friend Zack that he's in danger of ending up in the same vicious circle of alcoholism and violence. But Liu comes through with flying colours, because everything about this film is authentic. He uses it to paint a very topical portrait of an American generation that's in danger of being forgotten.
On March 25, at the case study: Minding the Gap Megan Vandervort from the Picture Motion impact agency will explain how the film has managed to succeed, and share their future plans with human rights activists and civic organisations.
CREW:
Director: Bing Liu
Producer: Bing Liu, Diane Quon
Cinematographer: Bing Liu
Editor: Bing Liu, Joshua Altman
Sound: James LeBrecht
Production
ITVS, Kartemquin Films, P.O.V./American Documentary
Sales:
Dogwoof
Awards
2018 – CPH:DOX, NEXT:WAVE Award – Honourable Mention; DOXA Documentary Film Festival, Nigel Moore Award; Hot Docs Canadian International Documentary Festival, Top Audience Pick; Sheffield Doc/Fest, Audience Award; Sundance Film Festival, Special Jury Prize; 2019 – Academy Awards, Best Documentary Feature Nominee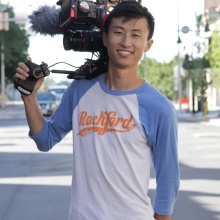 Director
Bing Liu
Bing Liu is a 30-year-old Chicago-based filmmaker whose critically acclaimed documentary Minding the Gap has earned over 50 award recognitions since its premiere at the 2018 Sundance Film Festival, where it took home the Special Jury Award for Breakthrough Filmmaking. He directed three storylines on America To Me, a 10-hour series from Steve James that examines racial inequities in the U.S. education system. Bing is a member of the Directors' Guild of America and was a former member of the International Cinematographers' Guild. Bing Liu is a 2017 Film Independent Fellow and Garrett Scott Development Grant recipient, and graduated magna cum laude with a B.A. in Literature from the University of Illinois at Chicago.
Selected Filmography
Minding the Gap (2018)