Occupied Cinema is a film about a guerrilla action initiated by young activists taking over the privatized cinema Zvezda in Belgrade, Serbia. This activity united various social groups that shared the same ambition – to change the reality in which they live. However, their views about what that reality should look like were not the same.
CREW:
Director: Senka Domanović
Producer: Snežana Penev
Cinematographer: Siniša Dugonjić
Editor: Mina Nenadović
Sound: Ivan Zelić
Production and Sales
Awards
2018 – Beldocs International Film Festival, Special mention; 2018 – Sarajevo International Film Festival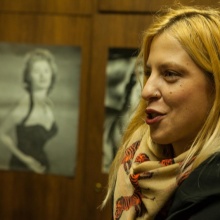 Director
Senka Domanović
Senka Domanović was born in 1982. She is a film director and political activist. After finishing high school she entered the Faculty of Political Sciences in Belgrade to study journalism. She completed a three-year film school at the SQUARE Center for Visual Communication. In 2005 she entered the film and television directing at the Faculty of Dramatic Arts. From 2005 to 2009 she collaborated as a video artist with different civic associations on different projects in Serbia and abroad. From 2014 to 2015 she worked as a program coordinator for the Belgrade Documentary and Short Film Festival. Since 2009 she has been working as a director, screenwriter and cinematographer on projects for a variety of media production houses including Emotion, Constantine, MBK, Vice Serbia and RTS. Occupied Cinema is her debut feature film. She works and lives in Belgrade, Serbia.
Selected Filmography
Occupied Cinema (2018)