Still Recording is a documentary that follows art students Saeed and Milad, who decide to leave Damascus and go to Douma, a suburb under rebel control. Over more than four years, the film depicts the two friends and their acquaintances as they go about their daily lives, capturing the transformation of the city of Douma and its people as they go through liberation, war, siege and hunger. More than 500 hours of footage was shot, and the men face grave questions about life and death, revolution and armed struggle, dreams and doubts, fear and love, and the use of art in a world facing destruction. Saeed and Milad try to launch a graffiti art project in Douma, but things in the besieged city take a turn for the worse after a chemical attack on eastern Ghouta. After he loses one of his friends, Milad decides to revive the art project with the help of his friends by painting colourful graffiti on the grey, devastated walls of the city…
The film is nominated for 'Rights Now!' Award
CREW:
Director: Ghiath Ayoub, Saeed Al Batal
Producer: Mohammed Ali Atassi
Cinematographer: Ghiath Ayoub, Saeed Al Batal, Milad Amin, Raafat Bayram, Abdel Rahman Najjar
Editor: Qutaiba Barhamji, Raya Yamashi
Sound: Pierre Armand
Production
Bidayyat for Audiovisual Arts, ROUSL Group, Films de Force Majeure, Blinker Filmproduktion
Sales:
Awards
2018 – Venice Film Festival, Audience Award (Critics' Week), Critics' Week Award, Edipo Re Award, FIPRESCI Award, Fair Play Cinema Award; Jihlava International Documentary Film Festival, Special Mention of the Testimony on Politics Jury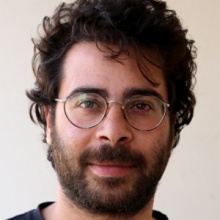 Director
Ghiath Ayoub
Ghiath Ayoub was born in Syria in 1989 and graduated from the faculty of Fine Art at the University of Damascus in 2013. A videographer and sound recordist with directing and producing experience in Syria and Lebanon, Ayoub has worked with local and international NGOs, teaching visual communication and art therapy to refugee children in Lebanon. He has also been involved with numerous non-profit organisations, such as Humans of Syria, with graphic design work and short films.
Selected Filmography
Still Recording (2018)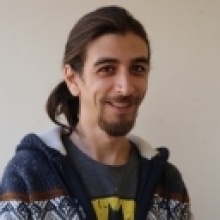 Director
Saeed Al Batal
Saeed Al Batal was born in Tartous, Syria, in 1988, and is a citizen journalist, photographer and filmmaker. He is a founder of Humans of Syria, the online gallery Sam Lenses, and many other projects. He has worked as a reporter for several radio stations, including NPR and Denmark Radio.
Selected Filmography
Still Recording (2018)