A story from the life of Alina, a 20-year-old girl from a poor family in Kyiv, who has a chance to be rescued through football. She's about to join the Ukrainian national team when life poses a new challenge: girl's mother dies, leaving her with two little siblings. Now, Alina must choose between football and family.
CREW:
Director: Alisa Kovalenko
Producer: Stephane Siohan, Valentyn Vasianovych, Maksym Vasyanovych, Myrosław Dembiński
Cinematographer: Serhiy Stetsenko, Alisa Kovalenko
Editor: Olha Zhurba
Sound: Mariya Nesterenko
Production
Sales:
Awards
2018 – Sheffield Doc/Fest, world premiere; Odesa IFF, Best European Documentary Award; Listapad Minsk IFF, Best Documentary Award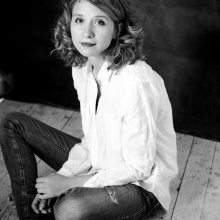 Director
Alisa Kovalenko
Alisa Kovalenko is an award-winning Ukrainian director, born in Zaporizhzhia, Ukraine in 1987. Studied journalism at the Taras Shevchenko National University of Kyiv, subsequently graduated from the Documentary Directing department of the Kyiv National Karpenko-Kary Theatre, Cinema and Television University (Oleksandr Koval's workshop). Alisa also studied at the Wajda School in Warsaw under the supervision of Marcel Łoziński. Her first feature film Sister Zo was featured at international film festivals. Together with Lyubov Durakova, Alisa produced her second full-length feature film, Alisa in Warland, which premiered in 2015 at the IDFA International Film Festival in Amsterdam, in the First Appearance competition programme for young directors. In summer 2018, as chief editor and co-producer, she released a 10-episode documentary on women's football in Ukraine, which was broadcast on Current Time TV (Czech Republic) and on UA:Pershyi (Ukraine).
Selected Filmography
Sister Zo (2014), Alisa in Warland (2015), Home Games (2018)