After being betrayed by the one he forged into boxing World Champion, Dobre, a veteran boxing coach, devotes himself to train his new pupil Caisă. He must leave with the fear of being abandoned again.
CREW:
Director: Alexandru Mavrodineanu
Producer: Alexandru Mavrodineanu, Tudor Giurgiu
Cinematographer: Alexandru Mavrodineanu
Editor: Gabi Basalici, Eugen Kelemen, Alexandru Mavrodineanu
Sound: Marian Bălan, Dragoş Ştirbu, Marius Leftărache
Production
Sales:
Transilvania Film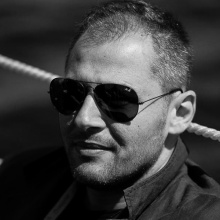 Director
Alexandru Mavrodineanu
Alexandru Mavrodineanu is a director and producer currently based in Bucharest. After graduating high school in south Italy he moved to Berlin where he completed his studies in 1999. He enrolled as camera operator and worked for Arte, Rai1, BBC, RTL, CNN etc. After returning to Romania, he shifted to directing. His first two short films The Boxing Lesson and Music in the Blood propelled him on the list of the up-and-coming talents in Romanian cinema. His feature length directorial debut came in 2014 with The Birdman, a documentary produced in association with HBO Romania. His latest production Caisă, a feature length documentary is currently in the international festival circuit.
Selected Filmography
Oven Backed Apples (2005), The Boxing Lesson (2007), Music in the Blood (2010), The Birdman (2014), One Night for Love (2016), Caisă (2018)