Milan. A few of the objects belonging to the list of goods that my family carried out of the Soviet Union in 1957, while emigrating to Italy, and a photograph from 1919 portraying the house where my grandfather was born. In the village of Yamna, in Ukraine, a wide area, patrolled by armed guardians. Inside the few remaining buildings of an abandoned sanatorium and an old wooden house, which looks exactly like the one my family owned. The further the inquiry proceeds, the more the inhabitants of the village will be entangled in the voids of their collective memory. The help of two of them will be crucial: Petro, the oldest partisan in the area, and Yura, the taxi-driver. The confessions will shed light on the fate of the house, just before the whole village will be buried again in its silent secrets.
CREW:
Director: Micol Roubini
Cinematographer: Davide Maldi
Editor: Micol Roubini, Davide Minotti
Sound: Stefano Grosso, Marzia Cordò, Giancarlo Rutigliano
Production
La Bête, L'Altauro, Dugong
Sales:
La Bête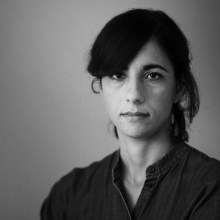 Director
Micol Roubini
Micol Roubini was born in Milan in 1982. She graduated in painting at the Fine Arts Academy in Milan, and in audio technology at Irmus, Scuola Civica, Milan. Since 2006 she has been working as artist, mainly with video, sound and multimedia installations that have been shown in solo and collective exhibitions in Italy and abroad. Her work deals with site-specific projects, often related to the notion of memory, to the analysis of marginal territories and to time flow. In 2017 she founded l'Altauro, for the production of independent cinematographic work. The Way to the Mountains is her first feature documentary film.
Selected Filmography
The Way to the Mountains (2018)