Karalina left Belarus, just like the overwhelming majority of her friends from music school. The lives of Belarusian intelligentsia members are portrayed in the form of a study of nostalgia – longing for their families, friends and the childhood they remember in idyllic colours. President Lukashenko declares on public television that there is a bright future ahead of the graduates of Belarusian schools, but the picture of the provinces seems to contradict this optimistic diagnosis. The only comfort is brought by a delivery truck with food, matches and vodka.
CREW
Director: Marcin Sauter
Producer: Marcin Sauter
Cinematographer : Marcin Sauter
Editor: Katarzyna Orzechowska
Sound editor: Marcin Lenarczyk
Production
Fundacja Bydgoska Kronika Filmowa
Sales
KFF Sales & Promotion, Катажина Вілк, katarzyna.wilk@kff.com.pl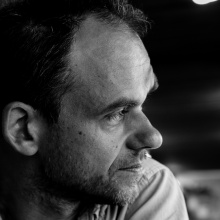 Director
Marcin Sauter
Marcin Sauter is a director, documentary filmmaker, DOP and photographer. Born in 1971. He studied at the Photography Department at the Polish National Film, Television and Theatre School in Łódź. He has been working ten years as a news photographer in Polish newspapers. He is a member of the Association of Polish Art Photographers. In 2005 he graduated from Documentary Master Course at the Andrzej Wajda Master School of Film Directing. Creator of several dozen photographic exhibitions. Lecturer at the Wajdaschool. He received several dozen awards for documentary films at international film festivals.
Filmography
Behind The Fence (2005), Travelling Cinema (2006), The First Day (2007), Andrzej Wajda: Let's Shoot! (2008), To the North of Calabria (2009), Hakawati (2011), The Source (2014), Zhalanash – Empty Shore (2017), I Grew Up As You Slept (2018)