Wizards, magic spells, and heroic sword battles are just fantasy for some, but for Veera they're a meaningful part of conquering her inner trauma. When Veera transforms into her LARP (live-action role-play) persona V, the game's fantasy battlefields give her the space to combat her psychological turmoil. Tormented by her past, in LARP Veera finds the support and solace she needs to become the hero of her own story.
The film is nominated for 'Rights Now!' Award
CREW:
Director: Tonislav Hristov
Producer: Kaarle Aho, Kai Nordberg
Cinematographer: Alexander Stanishev
Editor: Anne Jünemann, Tonislav Hristov
Sound: Jacques Pedersen
Production and Sales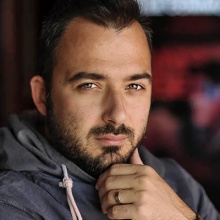 Director
Tonislav Hristov
Tonislav Hristov was born in Vraza, Bulgaria, in 1978 and studied engineering at the Technical University of Ruse. In 2003 he moved to Helsinki, Finland, and started to study film. He has directed six feature-length documentaries. His documentary, The Good Postman, premiered at the 2016 International Documentary Film Festival Amsterdam, screened in the World Cinema Documentary Competition at the 2017 Sundance Film Festival, and was nominated for a European Film Award in 2017.
Selected Filmography
Perhe (2009), Rules of Single Life (2011), Soul Food Stories (2013), Love & Engineering (2014), Once Upon a Dream – A Journey to the Last Spaghetti Western (2015), The Good Postman (2016)