Game Girls follows Teri and her girlfriend Tiahna as they navigate their relationship through the chaotic world of Los Angeles' Skid Row, aka the "homeless capital of the U.S." A dilemma fuels the tension between the two women: while Tiahna seems comfortable being a player in the underground economy of Skid Row, Teri is driven by a powerful desire to get out. Together with other women from the neighborhood, they attend a weekly Expressive Arts workshop where they are looking to reflect, dream, and heal. Can their love survive the violence of their past and their current environment?
The film is nominated for 'Rights Now!' Award
CREW:
Director: Alina Skrzeszewska
Producer: Jean-Laurent Csinidis, Meike Martens, Kelly Parker
Cinematographer: Alina Skrzeszewska
Editor: Emmanuelle Baude
Sound: Nans Mengeard, Pierre Armand
Production
Films de Force Majeure, Blinker Filmproduktion
Sales: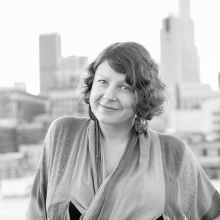 Director
Alina Skrzeszewska
Alina Skrzeszewska was born in Wroclaw, Poland in 1977. He grew up in Munich. She studied Stage Design and Art&Media at the University of the Arts in Berlin, and received an MFA in Film&Video from the California Institute of the Arts. In 2007-2008 she lived in an SRO hotel on Los Angeles' Skid Row. Since then, the neighbourhood has become something of a spiritual home for her, and Alina went on to make several films revolving around the area. Alina is the recipient of multiple scholarships and grants among them a 12 month DAAD artist grant (2007-2008) and the Nipkow project development grant in Berlin 2012. She lives and works in Los Angeles and is the mother of a wonderful young boy.
Selected Filmography
The Scent Of The Sky (2002), Stories of a Promised Land – part 1 (2006), Last One Left (2009), Songs from the Nickel (2010), Traviesos (2013), Game Girls (2018)