What human story lies behind the phenomenon of internet fraud? In Sakawa we meet three Ghanaian youngsters who, out of desperation, turn to internet scamming with the help of black magic. Ama is a young mother and a newcomer on the scene. 'OneDollar' tries to save the money to travel to Italy. Francis, who is the most experienced of them all, learns the others the tricks of the trade. What is viewed in the West as fraud is seen by the Sakawa boys as the exploitation of available resources. These resources come in the form of electronic waste, dumped in Ghana by the West.
CREW:
Director: Ben Asamoah
Producer: Peter Krüger
Cinematographer: Jonathan Wannyn
Editor: Tom Denoyette, Simon Schuurman
Sound: Feras Daouk
Production
Inti Films
Sales:
Awards
2018 – SXSW, Adam Yauch Hörnblowér Award Nomination; IDFA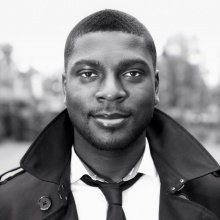 Director
Ben Asamoah
Ben Asamoah grew up in Ghana and moved to Belgium with his mother as a teenager. He studies Audiovisual Arts in RITCS Belgium, where he graduated with his short Black. During his studies he often went back to his country of origin where he discovered that his childhood friends had started a career in internet scamming, which resulted in his film Sakawa.
Selected Filmography
Sakawa (2018)