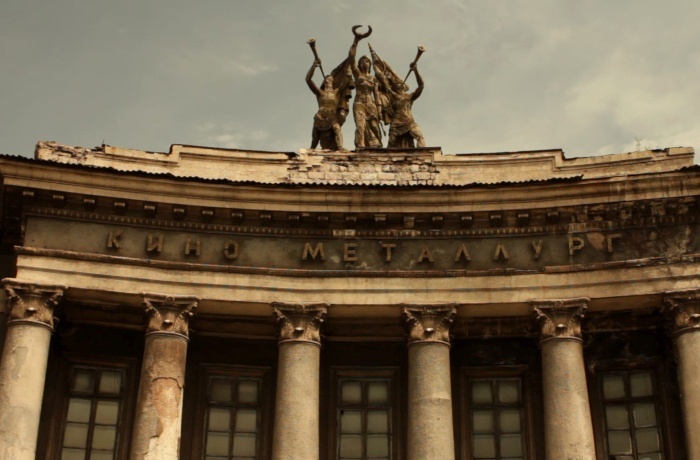 A contemporary trip to the Ukrainian front line, new reconceptualization of the Victory Day, and Serhiy Zhadan with his project Punctuation — three powerful documentary stories which are openly accessible to watch on our online platform.
Waltz Alchevsk is a feature-length debut of the filmmaker and DOP Vadym Ilkov. In May 2014, the 'Punctuation' project arrived to Alchevsk, invited by local activists who worked on the revitalization of Mstsyhovsky's Estate. It's a very subtle and deep capture of what was happening at that time in Donbas, through observation of the work of an art collective which includes Serhiy Zhadan, accordion player Oleksiy Vorsoba, and the trio of Port Mone and Olha Mykhailiuk. Today, Vadym Ilkov is working on the concert film Punctuation Live, which will record the visual art, poetry and music of the 'Punctuation' project. The shooting will take place on the last day of July.
Another debut, The War of Chimeras by Anastasia and Maria Starozhytska, traveled around Ukraine two years ago together with the Festival's DOCU/BEST. In the film, the director Anastasia Starozhytska rethinks her own experience. It's about a trip to the front line through ruined cities and about the attempts of two people in love to live together after the Ilovaisk Cauldron.
Another online premiere which you can also watch on DOCU/SPACE is a short documentary Holiday by Zhanna Maksymenko-Dovhych. Essentially, it is an observation of how history is re-evaluated. The Victory Day, a holiday which used to unite generations, becomes just a day off today. It's different for everyone.
Main photo: A still from the film Waltz Alchevsk