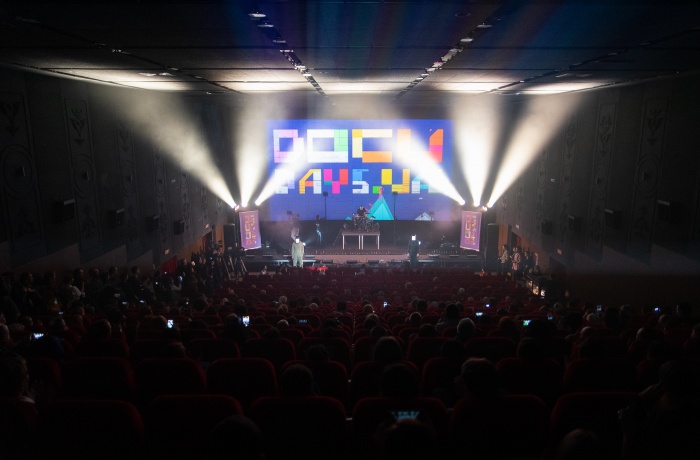 Dear friends, colleagues and partners!
We are sincerely grateful for your support of Docudays UA!
For the whole festival week, we studied how our everyday life, habits and ways of communication have been changing since the emergence of digital technology, what new possibilities they have opened, what threats they are hiding. We also discussed the rethinking of the concept of human rights online. We screened 76 films from 38 countries. 22,000 viewers came to watch smart cinema with us in Zhovten, Kyiv and Lira cinemas. And at the end of the festival, we organized two audience days in different Kyiv neighborhoods: in Boomer cinema and in the KyivKinoFilm network. About 2,000 festival fans participated in the events of the RIGHTS NOW! human rights platform in the IZONE creative space. About 200 people put on VR helmets to walk down the Instytutska Street amid the battles of the Revolution of Dignity, to experience 20 minutes of immobility in the bed of a person suffering from chronic fatigue syndrome. Such projects bring us closer to one another, and make other people's problems more understandable.
This success would be impossible without your support. We are proud of this result of our collaboration and hope for further partnership and new successes in the future. Our team already have many interesting new ideas which would surprise you and bring you joy. Already this fall, the festival's regional coordinators and Docudays UA human rights media education film club managers will hold the events of the Opposing Cyber Bullying and Cyber Grooming campaign, which was launched at the festival, in 220 towns and cities across Ukraine. We aren't saying goodbye for long. We're soon going to invite you to cinemas and lecture halls again.
Sincerely,
the Docudays UA team