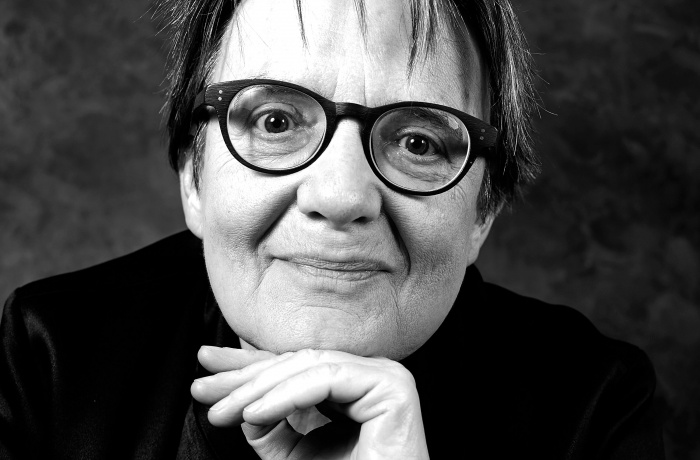 For the 80th anniversary of Krzysztof Kieślowski's birthday, Docudays UA shows his documentary films in a selection curated by the eminent Polish director Agnieszka Holland. Daria Badyor has talked with the director about her friendship with Kieślowski, his influence on Polish cinema and the political situation of that time, and about why today's cinema needs to take a stand.

Let's start with a personal question. You were friends with Krzysztof Kieślowski. How did you meet him and how did you start to work with him on Three Colours: Blue?
I met Krzysztof together with some other Polish filmmakers of this generation when I came back from my studies in Czechoslovakia. I didn't study in Łódź, like everybody in Poland those days, I went to Prague and spent five years there, from 1967 till 1972. It was a very important time both in Poland and in Czechoslovakia – with the Prague Spring and Soviet invasion, repercussions and persecutions. I was imprisoned there because I was an activist in the student movement.
So I came back to Poland after 1970 when the first secretary of the party changed, the workers' protest took place, and Poland became more liberal for a while. A group of five or six people gathered in my parents' apartment to hear about my experience in Prague and tell me about the current political situation in Poland.
Everybody was talking, except for Krzysztof, who was silent. When he opened his mouth, everybody turned toward him and listened – that's how I understood that he's the leader. We got to know each other closer when my daughter was born – his daughter was born a few months before, so he gave me a crib and some other things for the child and I visited him at home to take them. I will never forget how we talked as he was holding little Marta on his arm.
Later we started to see each other quite often and became very close friends. We discussed our ideas, Krzysztof showed me the rough cut of his film Blind Chance, and after my criticism, he recut the film and shot some new scenes. I showed him my stuff, and later he offered me to become a script consultant for the Three Colours trilogy.
When was the first time you saw his documentary films? What was your first impression?
I liked them. I think that he was very sensitive and very objective at the same time. The first one I watched was Workers '71, which he made with Tomasz Zygadlo for TV.
The promise was that they could do this film as they wanted, but it didn't happen. The state television completely recut it. I've seen both Krzysztof and Tomasz's version and the final cut – the latter was so bad and so different from what they wanted to say that it became a cold shower for Kieślowski in terms of being involved and trusting the authorities. So in the 1970s, he never did anything so openly political.
I wasn't involved in all his documentary work, and I hadn't even watched everything before I started to compose this selection for Docudays UA.
But I remember the time when he showed me First Love: I thought it was quite a revolutionary film. Krzysztof had the idea to continue this film, to come back to those people every year or two. But it didn't happen – I don't know why. Although I find it to be a very interesting idea, to follow the development of the child and the parents.
Michael Apted did this incredibly interesting documentary series Up when he returned to a group of children every seven years from their age of 7 until 63. The idea was to explore how the documentary can not only be an impression of the moment, but an attempt at showing life in a wider and deeper way.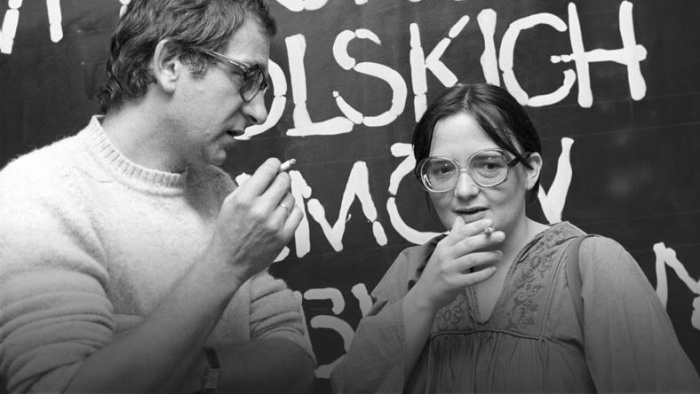 Krzysztof Kieślowski and Agnieszka Holland. Photo from ocdn.eu


How did you choose the films for this retrospective and structure them into three parts?

It was a difficult task. First I had to fit it into a more or less the same amount of time – between 80 and 90 minutes. And the length of those documentaries is very variable. I tried to put some dramaturgy into each part, showing films of a similar nature, but without being monotonous. There are biographies of people, silhouettes of professions and the environment people lived in.
The early films by Krzysztof have a transparent narrator, they are, in a way, slices of life. But two of them have a strong formal concept: Seven Women of Different Ages and Talking Heads. These films have the conceptual approach he continued to develop in the feature films Blind Chance, Decalog, The Double Life of Veronique, and finally, Three Colours. I wanted to show this conceptual change, so I've put them in this selection.
Why do you think he switched from political to conceptual films?
He thought that his 'political' films were very superficial, and I think that's why he found the capacity to express the political situation in the movies to be really limited, and he started to be more interested in existential and philosophical questions.
You've said that Kieślowski didn't do anything openly political in the 1970s. Do you consider his From a Night Porter's Point of View (1977) to be a political film?
Well, a lot of his films are political in one way or another. When you see how young people in the communist Poland are trying to have a child and to have a life through all the obstacles and bureaucracy, it's political. When you see a hospital and the work conditions there, it is political. When you see people working at an industrial factory which looks as if it is in the 19th century, it is also political.
From a Night Porter's Point of View was indeed political because it showed the kind of character who was a pure product of the regime. Later Krzysztof was very unhappy with this film because he thought that he manipulated the image of a real man and that it was unethical. It was one of the reasons he decided not to do documentaries again.
In fiction, he was the master, he controlled the situation, and fictional characters gave him much more freedom to tell what he wanted to tell.
My temperament also is more suitable for fiction, so I always found it difficult to use real people for my stories. I prefer to have a big margin of imagination and not to pretend that I'm doing a documentary.
Why?
It gives me more freedom, you know. I am the owner of my imagination and I'm not the owner of somebody's life.
Still, I respect documentary filmmakers a lot, and I think that today, documentaries are more interesting than fiction. Maybe because the people who make fiction are lazy.
Let's talk about the context of the films we're going to watch. What was the impact they had on filmmakers in Poland back then?
In the 1970s, Kieślowski's documentary work was very influential and inspired a lot of younger filmmakers. It was the time when everybody discussed his films. At the time, the leading roles in terms of inventing a new language were played by Kieślowski and Marcel Łoziński.
What about today's generation of filmmakers?
The collection of his documentaries was published 10 years ago and was very popular among filmmakers and film schools. I know for certain that young filmmakers in the UK, US, Italy and Asia love his latest works, but I'm not sure that they know his documentaries as well as his feature films.
Polish cinema of the late 1970s and early 1980s was called the cinema of moral anxiety. In your opinion, was this cinema a precursor to the civil movement of the 1980s, to Solidarność?
This name, 'the cinema of moral anxiety,' was not invented by the filmmakers themselves, by the way. It was invented by film critics to protect us, to show the authorities and censorship that we were not about politics, but about morality.
I think our cinema expressed the state of mind we had and was a bit premonitory. We felt that something was coming before it came. Of course we didn't know that there would be a strike in Gdansk in 1980 and the Solidarność will be born, but we didn't want to put up with the reality and felt the need to be together to fight it.
We showed these films a lot across Poland, we traveled from town to town around a wide network of cineclubs. Meetings with the audience were probably the first political meetings: at first, people were shy, but later they started asking the questions and talking about politics. Those films became the basis not only for artistic discussion around filmmaking, but also for political discussion.
Is there any political discussion in Polish cinema today? Are there topics that concern modern filmmakers?
I don't see enough political films and political statements in today's cinema. But Wojciech Smarzowski's film Clergy made an incredible impact on society and political discussions. The situation around the Catholic Church in Poland is very political because the church is very close to the current ruling party and has an incredible influence on political life. So it was very important to show people the true face of the clergy.
There are also two documentaries about the clergy that were made independently, without any public money, and were put on YouTube and became very popular.
Even with the 24/7 news channels, the audience needs a deeper and more artistic and subjective point of view on political events. Nevertheless, I'm not sure if Kieślowski would be doing it today. I think that he would rather be doing something different and personal.
I cannot help but link the discussion around Clergy to your screenings in film clubs back in the 1970s. People in Poland are used to political discussion through cinema, they do it all the time.
Yes, but still, we are living in a country where censorship exists, even if unofficially, in a country where laws and the Constitution are not accepted by the ruling party, in a very polarised country. I think it's time for the movies to take a stand.

Main photo: elleman.pl
Stills from Seven Women of Different Ages, From a Night Porter's Point of View.