On the eve of the beginning of the full-scale war in Ukraine, we announced the national DOCU/UKRAINE competition at the 19th Docudays UA. Even though we were not able to show them in Kyiv on the planned dates, we will present the films from the programme at the Krakow Film Festival on 29 May–5 June. This series of interviews with the filmmakers is about the films from the programme and the role of documentary filmmaking in Ukraine and worldwide.
Mountains and Heaven in Between by Dmytro Hreshko follows ambulance paramedics Maria, Tetiana, Anna, and Svitlana, and immerses the audience in the life of the Kolochava village in Zakarpattia. Film critic Aliona Penziy has talked to Dmytro Hreshko about his work on the film and about the role of filmmaking in Ukraine today, during the war.
Your previous short film Save Me, Doctor! was about the work of medics in Kyiv. Your feature-length film Mountains and Heaven in Between is about medics from Zakarpattia. How do the working conditions for doctors differ between the capital and the periphery? How has the pandemic affected their work?
A lot depends on the local management, but generally everyone is provided with all they need. This is unrelated to the pandemic, a general process of modernizing the ambulance service is underway. It takes place both in Kyiv and in the periphery.
Usually there can be a few calls per day in the countryside. Although they say that during the active stage of the pandemic, there were non-stop calls. Before, people used to call an ambulance just to get a shot or take their blood pressure. Now people who call an ambulance in Zakarpattia are first redirected to Uzhgorod, where the dispatcher assesses if an ambulance has to drive to the call or if it's enough to just give a consultation.
Why did you decide to create a collective protagonist rather than tell the story through one of the ambulance team members?
Initially I wanted to film my friend who is an ambulance medic in Irshava. But I didn't find the right atmosphere in the city. Then I was recommended an interesting ambulance in the mountains, in the village of Kolochava. I came there and said, "They say you have a cool ambulance here, I'm going to film you." They said, "Alright, if it has to be done, it'll be done." At first the doctors didn't want to say anything on camera, but they allowed me to travel with them. Then they got used to me. I decided not to single out any one of them: each of them is interesting in their own way. I wanted to paint a broader picture of who medics are.
Did many people refuse to be filmed? To what extent are people ready to open up during these moments which are probably not the most pleasant in their lives?
Both in Kyiv and in Zakarpattia, more than a half refused. But as I was making two films, I improved my approach somewhat. I used to ask if I could film, but now I just say that it's my job, please understand me. And people say, "Alright, if it's your job, then film." The doctors themselves help me during the filming, they approach the patient first and tell them that there's a man traveling with them and "filming for work, don't worry." Usually people respond better in this case.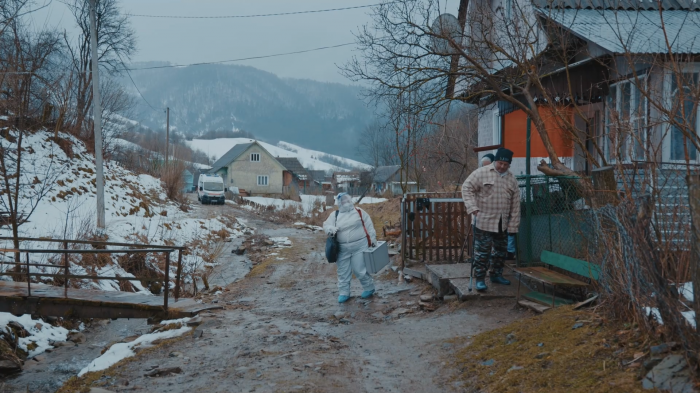 Your film includes wedding and funeral scenes which are not directly related to the patients visited by the ambulance. Were there any cases when the medics didn't get there on time and someone died, or maybe one of the wedding guests was taken to hospital with COVID-19?
That would be an amazing scene if someone from the wedding called an ambulance, but I wasn't so lucky. Many moments could have been unavailable for the film if I didn't insist on them. Same with the wedding, I really needed it according to my concept. I heard that a lot of people come to weddings in Zakarpattia despite the pandemic. And the weddings are held in mass during the same month in winter. During the filming, the season was almost over but nobody wanted to be filmed. Everyone realized that mass weddings during a lockdown aren't a great thing to do.
As I was working on the film, I rented a room from an elderly woman in Kolochava; I complained to her that I never managed to film a wedding. She called a friend of hers and arranged it. So I had this local location manager who was helping me the whole time.
How many people did you have in the film crew and how did you fit in an ambulance?
I was a one-man team. I argued with the producer, Polina German, for a while because she wanted a cameraman and a soundman to work with me. But I convinced her that I had experience of filming this way and I know that more people won't fit in an ambulance. Even I was getting in the way there. I'm used to filming and recording sound by myself. I also taught the paramedics to turn on their radio transmitters and mics on their own.
How did you get an idea to build the narrative from Christmas to Easter?
At first I wanted to make a film about the professional burnout of doctors, but they don't have this problem in Kolochava. It's a village, and people are just happy to have a job. Plus they don't have as many calls as in the city.
Then I got interested in the cyclic nature of rural life. Here, in Kyiv, I can hang out and follow my passions. But in Kolochava, you can't just hang out and search for yourself when you're 30: you have to get married, have kids, because you're "wasting" your life! After living there for two months, I also started thinking about kids and that I was too slow (laughs). So that was the atmosphere.
And it's an uninterrupted, endless cycle of life. I wanted to convey all that in the film, so it starts on Christmas, like at birth, and then there's a christening, a wedding and a funeral, and on Easter there's resurrection, the beginning of a new life cycle.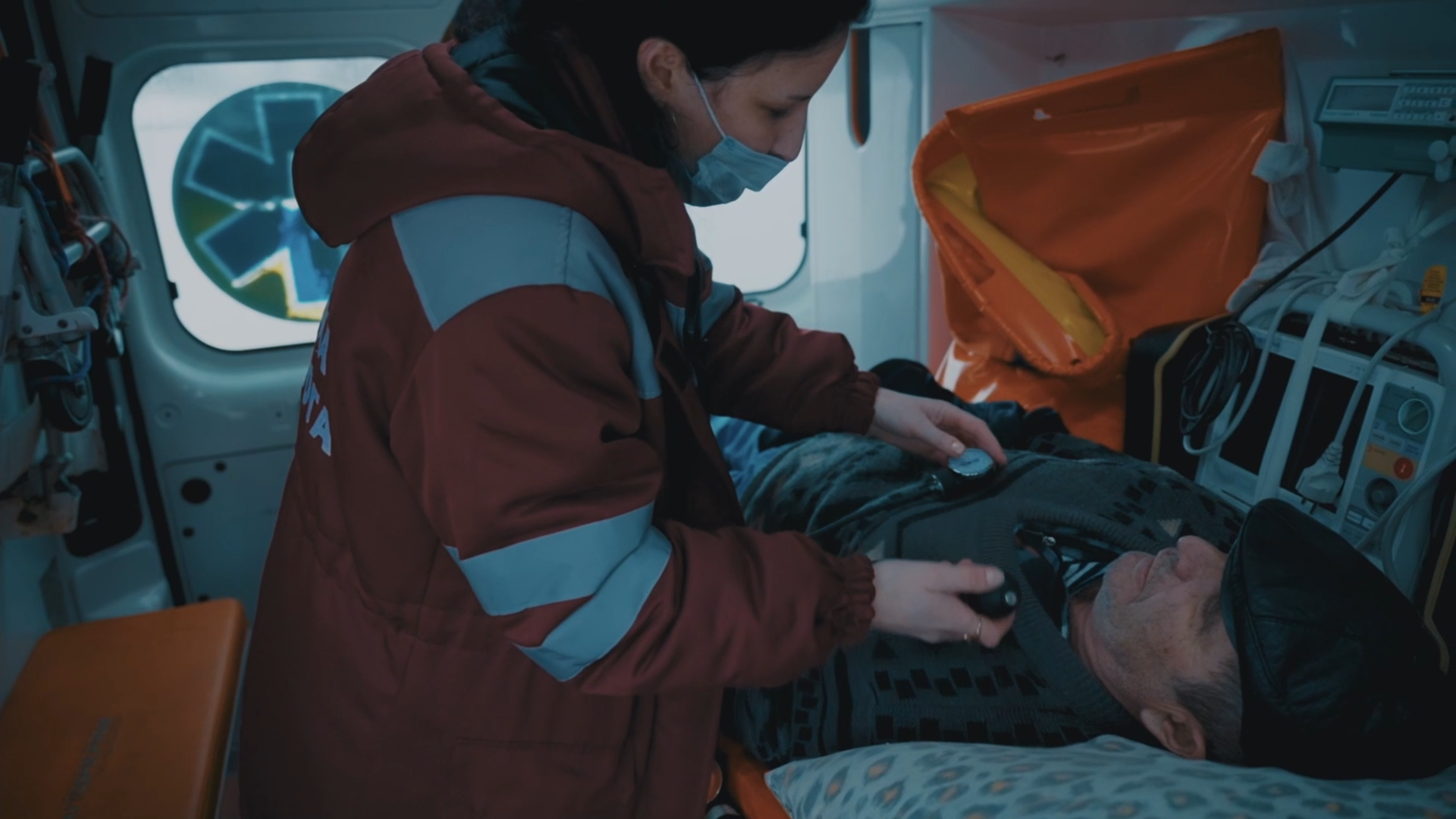 Do you have the time and inspiration to think about another documentary now? In your opinion, what can be the function of documentary film as an art form during war?
A few weeks after the full-scale invasion of Russia, I moved to Uzhgorod, and I didn't have the capacity to even think about films: it was mentally hard to focus on anything except for the news. But when the initial shock passed, I started thinking of how I could be useful as a documentary filmmaker. I started filming the volunteer movement and the stories of displaced people, and I ran into the story of a local theatre director who decided to stage King Lear with mostly amateur actors, displaced people and volunteers. Right now I'm documenting this project and I'm very satisfied with the results.
Documentary films can have various functions, it mostly depends on what the filmmaker wants (or doesn't want) to say. Right now it's especially important to document the reality around us and the stories that happen to people. Sometimes it's hard to let it come through you, but it's important to preserve these stories.
For me, documentary filmmaking is a way to record reality, and to tell stories, and to find meaning even where there is none at first glance. That's the magic of documentary film: you explore the world, and with it you explore yourself.
Stills from Mountains and Heaven in Between